Nailers drive finish nails up to 2 1/2 in. long.
Press Release Summary: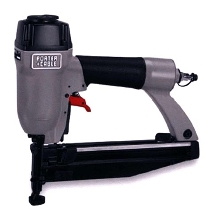 Model FN250B uses 16 ga finish nails between 3/4 and 2 1/2 in., while Model DA250B fires standard 15 ga angled finish nails between 1 and 2 1/2 in. long. Both include internal piston catching mechanism, tool-free adjustable depth control with over 45 pre-set detents, tool-free 360° adjustable exhaust, Teflon cylinder, restrictive trigger, and non-marring rubber nose tip with on-tool storage.
---
Original Press Release:
Porter-Cable Adds Final Touches to Its Finish Nailers

FEBRUARY 8, 2002 - ATLANTA, GA - Porter-Cable introduced two enhanced finish nailer kits during a press conference today at the International Builders' Show in Atlanta, Georgia. The two models - models DA250B and FN250B - are improved versions of earlier models (as noted by the suffix "B"). Targeted toward professionals installing trim, molding, paneling, door & window casings, and even cabinet face frames, these models can drive finish nails as long as 2-1/2".

The model FN250B, which uses standard 16-gauge finish nails between 3/4" and 2-1/2", was completely re-engineered to offer a more compact design as well as a streamlined body for an improved holding position. Its tool-free jam release mechanism was purposefully designed to improve the line-of-sight during nailing applications. Porter-Cable's new design eliminated the need for an insert when using smaller nail lengths.

Weighing only four pounds, Porter-Cable minimized the unit's weight while also extending the tool's life by using a new-age Teflon cylinder that minimizes friction and requires less oil. Preliminary tests have revealed that the model FN250B provides twice the life of its predecessors. Its highly advanced piston catching mechanism captures the pressure when the piston is at its highest point in the stroke. As a result, the FN250B delivers consistent power with every shot.

Unlike earlier versions, the model FN250B features a tool-free adjustable depth control with over 45 pre-set detents (four detents each full turn) for setting and resetting precise nail depths. Its tool-free 360 deg adjustable exhaust enables the user to aim the air release in any direction. Featuring a restrictive trigger, the model FN250B includes a non-marring rubber nose tip with on-tool storage for added convenience. This special tip prevents ugly scars by furnishing a soft cushion between the unit's nose and the work-piece. Available in late March, the FN250B is expected to sellfor approximately $195.

The powerful DA250B, which fires standard 15-gauge angled finish nails, offers a host of improved features and benefits. Beginning with an increased nail capacity, this unit accepts nails between 1" and 2-1/2" (previously 1-1/4" to 2-1/2"). Its streamlined body positions the magazine in the center of the handle rather than off to one side. As a result, the DA250B offers improved balance that rivals any competitive model. Additionally, the DA250B touts an angled coupler in order to minimize interference with the air hose while reloading the magazine.

Porter-Cable reduced the weight of the DA250B drastically by as much as 30% (from six pounds to 4.2 pounds). This was achieved by using a Teflon cylinder as well as the addition of high impact plastic magazine with metal reinforcements. The magazine, which loads from the rear, features a by-pass pusher that is accessible from both the right and left of the unit. The unit includes a non-marring rubber nose tip with on-tool storage for added convenience. Although the DA250B comes with a restrictive trigger, end-users can request a bottom actuated trigger kit by calling (1-800-321-9443).

Like the model FN250B, the DA250B offers an internal piston catching mechanism, which captures the pressure when the piston is at its highest point in the stroke. As a result, the DA250B delivers consistent power with every shot. Its tool free adjustable depth control touts over 45 pre-set detents (four detents each full turn) for setting and resetting precise nail depths. Also, its tool-free 360° adjustable muffled exhaust enables the user to aim the air release in any direction. The DA250B's tool free jam release mechanism opens from the front of the magazine and allows the user to clear jammed nails in a matter of seconds. Available in late March, the model DA250B is expected to sellfor approximately $245.

Unlike many competitive brands, both of Porter-Cable's new finish nailer kits offer unparalleled value. They are packaged in a heavy-duty plastic carrying case with nail storage compartment; a 1,000-pack of 2" finish nails; 1/4" NPT male quick coupler; wrenches; air tool oil; and an owner's manual.

Porter-Cable Corporation (www.porter-cable.com), a subsidiary of Pentair, Inc. (NYSE - PNR), is a leading manufacturer of portable electric and cordless power tools; air nailers, staplers, & compressors; generators; pressure washers; and related accessories for the professional woodworking, commercial/residential construction, plumbing, and electrical markets. With its manufacturing operation centralized in Jackson, TN, Porter-Cable operates a second manufacturing facility in Steinheim, Germany, where its products are produced and sold throughout Europe under the FLEX brand name.

A Pentair Company