NAI Presents Fiber Optic Cable Assemblies with Flame Retardant PVC Sheath
Press Release Summary: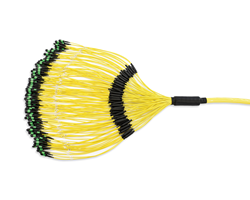 Available in 288F, 576F, 1,728F and 3,546F assemblies with fiber counts of 288, 576, 1,728 and 3,456 respectively
Fiber optic cables are pre-terminated at one end with LC or MPO connectors
Pliable single mode ribbon cable is OFNR Riser rated and meets high density space requirements
---
Original Press Release:
NAI Introduces New Fiber Optic Cable Assemblies for Hyperscale Computing
TROY, MICH. (PRWEB) MARCH 27, 2019 - NAI, a leading manufacturer of custom end-to-end connectivity solutions for high performance systems in industrial, telecom, data and medical industries, has introduced a series of new fiber optic cable assemblies designed specifically for hyperscale computing in data centers.
The fiber optic cables in these assemblies are pre-terminated at one end with LC or MPO connectors, although customers can specify any fiber optic connector. The harness is then spooled onto a crate reel at customer-specified lengths. NAI recommends a minimum length of 50 feet, and the length limit is generally defined by the reel dimensions needed for safe handling and transportation.
The pre-terminated end solution reduces field terminations and eases installation, especially in cramped data centers.
NAI currently offers the following assemblies and fiber counts: 
288F – 288 fibers 
576F – 576 fibers 
1,728F – 1,728 fibers 
3,546F – 3,456 fibers (most recent capability added)
The pliable single mode ribbon cable is OFNR Riser rated and ideal for high density space requirements. A flame-retardant PVC sheath provides a rugged, yet flexible, cable for indoor riser applications. The UV acrylate coated fibers are color coded per TIA-359 and TIA-598. Each fiber ribbon consists of 12 primary fibers aligned in parallel. The ribbon is intermittently separated for pliability. All ribbons are placed in a single, non-filled, flame retardant PVC buffer tube. A cable sheath covers the buffer tube and consists of a layer of fiberglass yarns and a layer of rigid FRP strength elements for tensile strength required for installation and service loads. The PVC jacket is colored yellow for Single Mode designation.
For more detailed cable and connector specifications, contact NAI.
About Hyperscale Computing in Data Centers
Hyperscale computing is an architecture that can expand and contract as needed by a business operation. The system is therefore highly scalable, which is seamless to the user. A hyperscale computing operation is a robust system with flexible memory, networking and storage capabilities. Where older data center architecture limited to capabilities of the computer operation and network, a hyperscale system utilizes hundreds of thousands of servers that operate together in a high-speed environment. Cloud-based servers are key to this type of architecture.
Data centers can now use public clouds and multiclouds to enable a hyperscale architecture, instead of private servers or private clouds. Security devices and technology have advanced, allowing businesses to broaden their cloud computing base.
The form factors of hyperscale data centers are designed to optimize performance and reduce costs. This requires small and densely packaged servers. The interconnect requirements of these servers require similar high-density and small size. NAI has engineered special cable assembly solutions to accommodate this application in data centers.
To learn more about NAI, please visit the NAI website at http://www.nai-group.com.
About NAI
NAI has been a global leader in the manufacturing of advanced mission-critical and high-reliability fiber optic and copper cable assemblies and harnesses since 1993. NAI features a world class integrated supply chain, expert operations management, and a global manufacturing footprint in low cost regions. These all combine to provide NAI customers with a unique solution for their connectivity product requirements, from fiber optic and copper cable assemblies to box and panel build-outs and assemblies. In addition, NAI's global locations provide more flexibility in the manufacture and shipping of assemblies to lower customer costs, including tariffs.
NAI manufactures assemblies across diverse markets including fiber optics, telecom, industrial, and medical industries. The company's unique ability to service both high mix / low volume and low mix / high volume programs, while complying with complex regulatory requirements, supports the unique business needs of all customers, delivering the confidence and reliability that enable their success.
Contact Information
Steven Bork
NAI
847-778-6468
More from Electrical Equipment & Systems