NAB 2013 Success Story: Rohde & Schwarz DVS Helps Harbor Picture Company Deliver Award-Winning Slate of Films to Sundance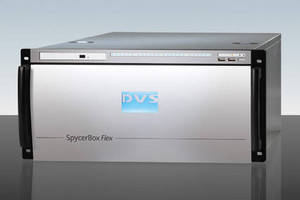 Hanover/Las Vegas. At NAB 2013, Rohde & Schwarz DVS GmbH (DVS) is proud to announce the following news: Harbor Picture Company, one of New York's fastest growing production and DI post facilities, delivered a slate of three films to the 2013 Sundance Film Festival - Very Good Girls, Ain't Them Bodies Saints, and The Inevitable Defeat of Mister and Pete. Ain't Them Bodies Saints, graded by Harbor Picture Company colorist Joe Gawler, was awarded the festival's Excellence in Cinematography Award.



"As a new company, Harbor was thrilled for the opportunity to finish three films for Sundance this year," said Gawler. "All three were terrific experiences and we are particularly proud that Ain't Them Bodies Saints was awarded Best Cinematography. Using the DVS SpycerBox Flex gave us the speed and bandwidth to be able to conform, grade and master all three features simultaneously."



Harbor Picture Company President, Zak Tucker, noted, "We were so grateful to have the opportunity to collaborate on three Sundance features this year, Ain't Them Bodies Saints, directed by David Lowery, Very Good Girls, directed by Naomi Foner, and The Inevitable Defeat of Mr & Pete, directed by George Tillman, Jr. Because Harbor is an artist-driven post studio for studio and independent feature projects we are dedicated to ensuring a seamless and robust technical infrastructure so that our artists and collaborators can focus on the creative. The SAN offering from DVS is unparalleled in reliability and performance when it comes to perfect, on-time delivery."



The DVS SpycerBox storage platform, tuned specifically for high-bandwidth, high-reliability film and video workflows, is built around a "SAN-in-a-box" concept, combining RAID-5 SAN storage, metadata server, open file system, and a network file server all in one 5U chassis. With unmatched flexibility, SpycerBox provides high-speed, low-latency block-level access to Mac, Windows, and Linux workstations via 8 Gb Fibre Channel and the StorNext file system, while simultaneously providing CIFS/SMB and NFS network access via 1/10/40 Gb Ethernet. Apple Mac fibre channel clients running Lion or Mountain Lion get the added benefit of using the Xsan client license included in the operating system at no extra cost. The solution comes in two configurations, SpycerBox Flex and SpycerBox Ultra. The high-performance SpycerBox Flex delivers five simultaneous streams of uncompressed 2K and up to 40 simultaneous streams of 220 Mbit/s compressed video, at all given times. SpycerBox Ultra delivers a high-capacity configuration up to 96 TB. Multiple SpycerBoxes can be easily managed with the DVS-exclusive Spycer® content control software. Spycer® offers unique browse and search, high-speed copy, defragmentation and many other tools for managing media files.



Once the final color grades were complete, Harbor turned to its DVS Fuze system for creating the digital cinema packages that would screen at Sundance. Utilizing the same application base as the flagship CLIPSTER® system, Fuze enabled Harbor to encode the final uncompressed DPX sequences for each of the films as DCI-standard JPEG2000 files. Specialized DVS hardware processing dramatically accelerates DCP creation up to twice real-time, all while providing strict compliance with the DCI specification. Fuze's built-in KDM management and spec validation tools ensure that DCPs sent across the country or across the world will provide reliable playback and faithful picture reproduction.



"We'd like to congratulate Harbor Picture Company on their success at Sundance. It's always exciting and gratifying to see our solutions used in the finishing of such notable projects. We're pleased to have been able to play a part," commented Erik Balladares, Director of Broadcast and Post Production, Rohde & Schwarz USA, Inc.



About Harbor Picture Company: The team at Harbor has come together to provide a new ethos and facility to the NYC landscape for the production and post production of feature films, commercials, television and web content. Built and run by artists working alongside technical infrastructure experts, Harbor has magnetized a dynamic team of collaborators, housed in a state of the art facility, all in service of delivering projects with the highest caliber aesthetics and technical fidelity. We value and love our work. Therefore, we do not look to routine formulas that are just about getting the job done. Rather, we push, explore, and challenge in order to elevate the project's potential. We have created a flexible technical architecture designed to work from the studio scale down to the young filmmaker, and take pride in championing pioneering creative work in emerging talent.



We believe that great work happens when we are in the right mindset. We have strived to create an experience and atmosphere that supports this proposal in a comfortable, artist centric space, where we focus on the humanistic values of friendly service and aesthetics without compromise. http://harborpicturecompany.com/.



About Rohde & Schwarz DVS GmbH: For more than 25 years, Rohde & Schwarz DVS GmbH has been very successful in the professional film, video post production and broadcast markets. The specially developed and manufactured hardware and software are applied to the production of popular TV series, Hollywood blockbusters and in Digital Cinema. CLIPSTER® was the first system in the world to make real-time 4K processing possible. The future-proof Media Production Hub VENICE offers a flexible solution for modern, file-based workflows in broadcast environments. www.dvs.de.          



More from Material Handling & Storage