N-Channel Power MOSFET maintains typical Rdson of 54 mOhm.
Press Release Summary: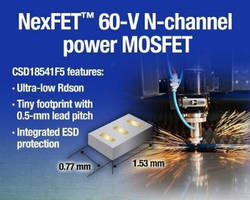 Offered in 1.53 x 0.77 mm silicon-based package, 60 V Model CSD18541F5 maintains typical on-resistance of 54 mΩ at 10 V gate-to-source, and is designed to replace standard small-signal MOSFETs in space-constrained industrial load-switch applications. LGA package features 0.5 mm pitch between pads for easy mounting and is 80% smaller than traditional 60 V load switches. Integrated ESD protection diode safeguards MOSFET gate from over voltage.
---
Original Press Release:

TI Introduces 1.2-mm2 FemtoFET 60-V N-channel Power MOSFET with Industry's Best Resistance



Tiny LGA package is 80 percent smaller than traditional 60-V load switches



DALLAS, -- Texas Instruments (TI) (NASDAQ: TXN) today introduced a new 60-V N-channel FemtoFET power transistor that provides the industry's lowest resistance that is 90 percent below traditional 60-V load switches, reducing power loss in end-systems. The CSD18541F5 is offered in a tiny 1.53-mm-by-0.77-mm silicon-based package that has an 80 percent smaller footprint than load switches in SOT-23 packages. For more information and samples, see www.ti.com/csd18541f5-pr.



The CSD18541F5 metal-oxide semiconductor field-effect transistor (MOSFET) maintains a typical on-resistance (Rdson) of 54-mΩ  and is designed and optimized to replace standard small-signal MOSFETs in space-constrained industrial load-switch applications. The tiny land grid array (LGA) package features a 0.5-mm pitch between pads for easy mounting. Read the blog post, "Shrink your industrial footprint with new 60V FemtoFET MOSFETs."



The CSD18541F5 expands TI's NexFET(TM) technology portfolio of FemtoFET MOSFETs to include higher voltages and manufacturing-friendly footprints. Download the design summary with more information on the LGA package.



CSD18541F5 key features and benefits



--  Ultra-low 54-mΩ of Rdson at 10-V gate-to-source (V(GS)) is 90 percent less than traditional 60-V load switches, providing lower power loss.

--  Ultra-small 1.53-mm-by-0.77-mm-by-0.35-mm LGA package is 80 percent smaller than a traditional load switch in a SOT-23 package, reducing printed circuit board (PCB) board space.

--  Manufacturing-friendly 0.5-mm pad pitch.

--  Integrated electrostatic discharge (ESD) protection diode safeguards the MOSFET gate from over voltage.



Availability, packaging and pricing

Available in volume now from TI and its authorized distributors, the CSD18541F5 is packaged in a 3-pin LGA package and priced at US$0.14 in 1,000-unit quantities. Download the PSpice transient models.



About TI's NexFET power MOSFETs

TI's NexFET power MOSFETs improve energy efficiency in high-power computing, networking, industrial and power supplies. These high-frequency, high-efficiency analog power MOSFETs give system designers access to the most advanced direct current DC/DC power-conversion solutions available.



Find out more about TI's power-management portfolio:



--  View TI's complete portfolio of NexFET power MOSFETs.

--  Design a complete power-management system online with TI's WEBENCH Power Designer.

--  Search for solutions, get help, and share knowledge in the TI E2E(TM) Community NexFET power MOSFET forum.

--  Download power reference designs from the TI Designs reference design library.



About Texas Instruments

Texas Instruments is a global semiconductor design and manufacturing company that develops analog integrated circuits (ICs) and embedded processors. By employing the world's brightest minds, TI creates innovations that shape the future of technology. TI is helping more than 100,000 customers transform the future, today. Learn more at www.ti.com.



Trademarks

WEBENCH is a registered trademark and TI E2E and NexFET are trademarks of Texas Instruments. All other trademarks belong to their respective owners.



CONTACT: Gayle Bullock, Texas Instruments, 669-721-3133, gayle.bullock@ti.com



Web Site: http://www.ti.com

More from Communication Systems & Equipment