N-Channel MOSFET Gate Driver operates from -55 to +125°C.
Press Release Summary: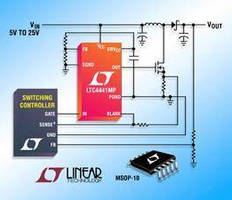 Supplied in thermally enhanced 10-lead MSOP, MP-grade LTC4441 delivers 6 A peak output current and increases DC/DC controller output power and efficiency. This enables driving of high-power N-channel MOSFETs or multiple MOSFETs in parallel. Along with adjustable 5-8 V onboard linear regulator for gate drive voltage and IC power, features include 5-25 V input supply, adjustable leading edge blanking, and TTL/CMOS-compatible input that can be driven below ground or above driver supply.
---
Original Press Release:

6A N-Channel MOSFET Gate Driver Operates over a -55°C to 125°C Junction Temperature Range



MILPITAS, CA - Linear Technology Corporation announces a new high reliability (MP-grade) version of the LTC4441, a 6A N-channel MOSFET gate driver that operates over a -55°C to125°C operating junction temperature range. This high power driver is designed to increase the output power and efficiency of a DC/DC controller, enabling it to drive high power N-channel MOSFETs or multiple MOSFETs in parallel. Its gate drive voltage is adjustable from 5V to 8V, allowing designers to choose either standard threshold or logic level MOSFETs. With a wide input supply range from 5V to 25V, the LTC4441 provides a simplified solution for increasing the output power capability of power supplies in telecom, industrial systems and motor control applications.

The LTC4441 includes an easily adjustable 5V to 8V onboard linear regulator for its gate drive voltage and IC power. The propagation delay when driving a 4.7nF capacitance with 7.5V drive voltage is only 30ns. Adjustable leading edge blanking prevents ringing when sensing the source current in the power MOSFETs. The LTC4441 has a robust TTL/CMOS-compatible input that can be driven below ground or above the driver supply. Other protection features are undervoltage lockout and overtemperature circuits, which disable the driver output when activated.

The LTC4441 is packaged in a thermally enhanced 10-lead MSOP. 1000-piece pricing starts at $5.45 each. For more information, visit http://www.linear.com/product/LTC4441.

Summary of Features: LTC4441MP

6A Peak Output Current

Wide Input Supply Range from 5V to 25V

Adjustable Gate Drive Voltage from 5V to 8V

Logic Input Can Be Driven Below Ground

Adjustable Blanking Time Reduces Ringing

30ns Propagation Delay

About Linear Technology
Linear Technology Corporation, a member of the S&P 500, has been designing, manufacturing and marketing a broad line of high performance analog integrated circuits for major companies worldwide for three decades. The Company's products provide an essential bridge between our analog world and the digital electronics in communications, networking, industrial, automotive, computer, medical, instrumentation, consumer, and military and aerospace systems. Linear Technology produces power management, data conversion, signal conditioning, RF and interface ICs, and µModule® subsystems.

LT, LTC, LTM, µModule, and are registered trademarks of Linear Technology Corp. All other trademarks are the property of their respective owners.

Contacts
North America and General Information
John Hamburger
Tel: (408) 432-1900 ext. 2419
jhamburger@linear.com

Doug Dickinson
Tel: (408) 432 1900 ext. 2233
ddickinson@linear.com

More from Architectural & Civil Engineering Products