N-Channel MOSFET Drivers feature 1 A drive capability.
Press Release Summary: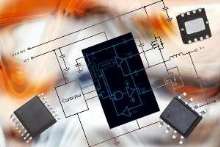 Models SiP41103, SIP41104, and SiP41105 drive lower and upper MOSFETs in half-bridge configuration, and work in systems with supply voltages from 4.5-50 V. Units operate at switching frequencies of 250 kHz to 1 MHz with driver impedance of less than 1 ohm. Equipped with brake function for motor drive applications, Model SiP42101 operates at 50 kHz. Break-before-make logic prevents shoot-through currents in external MOSFETs. All units come in standard and lead-free packages.
---
Original Press Release:

Vishay Siliconix Half-Bridge N-Channel MOSFET Drivers Feature 1-A Drive Capability For Up to 50-V Systems and Impedance Under 1 Ohm


SANTA CLARA, CALIFORNIA - January 31, 2005 - Siliconix Incorporated (NASDAQ: SILI), an 80.4%-owned subsidiary of Vishay Intertechnology, Inc. (NYSE: VSH), today announced four new high-speed, half-bridge, n-channel MOSFET driver ICs designed for use in high-frequency, high-current, single- and multiphase dc-to-dc switching power supplies, including one driver with a brake for brushless motor control applications.

The new SiP41103, SiP41104, and SiP41105 dual MOSFET drivers, which drive both the lower and upper MOSFETs in a half-bridge configuration, work in systems with supply voltages from 4.5 V up to 50 V. Designed to supply output currents up to 1 A, these three drivers operate at switching frequencies of 250 kHz to 1 MHz with a driver impedance of less than 1 ohm, allowing for reduced capacitor and inductor size. The new SiP42101, which is equipped with a brake function for motor drive applications, operates at 50 kHz.

The family's break-before-make logic prevents shoot-through currents in the external MOSFETs as well as the internal bootstrap diode, which drives an n-channel high-side MOSFET that reduces the number of external components. A shutdown/control pin is used to enable the drivers, and a synchronous enable pin is additionally provided on the SiP41103 and SiP41105 to allow disabling of the low-side or "synchronous rectifier" MOSFET to maximize efficiency at light power loads.

An undervoltage lockout feature prevents driving of the MOSFET gates when the supply voltage (at VDD) is less than is specified, thereby ensuring that output MOSFETs are only turned on when sufficient gate voltage is present. The devices have a shutdown quiescent current of less than 5 A.

All four new MOSFET drivers are available in both standard and lead (Pb)-free packages. The SiP42101 and SiP41103 have an MLP33-10 package, while the SiP41104 has an SO-8 package and the SiP41105 an TSSOP-16 PowerPAK. They are rated for operation over the -40 C to +85 C industrial temperature range, with applications including high-current synchronous buck (step-down) converters, multiphase dc-to-dc converters, asynchronous-to-synchronous adaptations, and computer dc-to-dc converters. The SiP42101 joins Siliconix's existing family of motor drivers, including the popular Si9986, which has integrated 1-A MOSFETs.

Samples and production quantities of the SiP42101, SiP41103, SiP41104, and SiP41105 are available now, with lead times of 8 to 10 weeks for larger orders.

Siliconix is a leading manufacturer of power MOSFETs, power ICs, analog switches, and multiplexers for computers, cell phones, fixed communications networks, automobiles, and other consumer and industrial electronic systems. With 2002 worldwide sales of $372.9 million, the Company's facilities include a Class 1 wafer fab dedicated to the manufacture of power products in Santa Clara, California, and an affiliated Class 1 wafer fab located in Itzehoe, Germany. The Company's products are also fabricated by subcontractors in Japan, Germany, China, and Taiwan. Assembly and test facilities include a company-owned facility in Taiwan, a joint venture in Shanghai, China, and subcontractors in the Philippines, China, Taiwan, Israel, and the United States.

Vishay, a Fortune 1,000 Company listed on the NYSE, is one of the world's largest manufacturers of discrete semiconductors (diodes, rectifiers, transistors, optoelectronics, and selected ICs) and passive electronic components (resistors, capacitors, inductors, and transducers). The Company's components can be found in products manufactured in a very broad range of industries worldwide. Vishay is headquartered in Malvern, Pennsylvania, and has operations in 17 countries employing over 26,000 people. Vishay can be found on the Internet at www.vishay.com