MX22.5 AC/DC Power Source offers expandable power levels.
Press Release Summary: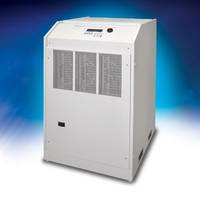 Measuring supply power, Vrms, Irms, Ipk, crest factor, real power, apparent power and power factor, MX22.5 AC/DC Power Source can be configured to have single-phase or three-phase outputs using phase mode programming. Capable of generating arbitrary and harmonic waveforms, unit is operated by front-panel controller. Delivering up to 22.5 kVA output, product can be equipped with RS-232C, USB, IEEE-488, and LAN Interfaces.
---
Original Press Release:
New California Instruments MX22.5 AC/DC Power Source Makes Three-Phase Power More Affordable
AMETEK Programmable Power has added a 22.5 kVA unit to its popular California Instruments MX Series II AC/DC Power Sources. The MX22.5 delivers up to 22.5 kVA and can be configured to have single-phase or three-phase outputs in AC, DC or AC+DC mode. The MX22.5 is more economical than the California Instruments MX30, while at the same time offers more features and higher output power than the product family's MX15 model.
The California Instruments MX Series II provides controlled AC and DC output for a wide variety of automated test equipment and product test applications at an affordable cost. Using state-of-the-art PWM switching techniques, the MX series combines robustness and functionality in a compact floor-standing chassis, no larger than a typical office copying machine. And, this higher power density does not need elaborate cooling schemes or additional installation wiring. Simply place the unit in its designated location (using included casters), plug it in, and the MX Series is ready to operate.
The MX22.5's innovative features include:
Simple operation. The MX Series can be operated completely from its menu-driven, front-panel controller. A backlit LCD display shows menus, setup data, and read-back measurements.
Expandable power levels. Users can combine units to configure systems up to 135 kVA or more.
Switching between single-phase and three-phase outputs. Phase mode programming on MX22.5-3Pi allows users to easily switch between single-phase and three-phase output modes.
Arbitrary and harmonic waveform generation. Using the latest DSP technology, the MX Series programmable controller is capable of generating harmonic waveforms and arbitrary waveforms to test for susceptibility to harmonics and other power anomalies.
Regenerative, bidirectional "green" power. Automatic crossover between source and sink power modes offers regenerative capabilities in AC or DC mode. The power sources can regenerate up to 85% of the rated output power back to the utility grid during sink mode operation when equipped with the -SNK or -SNK-DC option.
Power measurements. The MX Series can make a wide variety of measurements in addition to supplying power, including frequency, Vrms, Irms, Ipk, crest factor, real power (watts), apparent power (VA), and power factor. These measurements are accessible from either the front panel or the remote control interface.
Remote control. The MX Series can be equipped with RS-232C, USB, IEEE-488, and LAN Interfaces for remote operation and automated test applications.
For More Information
To learn more about AMETEK's programmable power supplies and programmable electronic loads, contact AMETEK Programmable Power Sales toll free at 800-733-5427, or 858-458-0223, or by email at sales.ppd@ametek.com. Information also is available from an authorized AMETEK Programmable Power sales representative, who can be located by visiting http://www.programmablepower.com/contact.
About AMETEK Programmable Power
AMETEK Programmable Power designs, manufactures and markets precision, AC and DC programmable power supplies, electronic loads, application specific power subsystems, and compliance test solutions for customers requiring and valuing differentiated power products and services. It offers one of the industry's broadest portfolios of programmable power products under the California Instruments, Sorensen, and Elgar brands.
AMETEK Programmable Power is a business unit of the AMETEK Electronic Instruments Group, a leader in advanced instruments for the process, aerospace, power, and industrial markets and a division of AMETEK, Inc., a leading global manufacturer of electronic instruments and electromechanical devices with 2016 annual sales of approximately $4.0 billion.
Contact:
Craig Frahm
AMETEK Programmable Power
9250 Brown Deer Road
San Diego, CA 92121 USA
Phone: (858) 678-4459
Email: craig.frahm@ametek.com
Url : www.programmablepower.com
More from Architectural & Civil Engineering Products