DC to DC Power Supplies (Converters)
Murata's DC-DC Converters Feature 2250 Vdc Input-to-Output Isolation
Press Release Summary: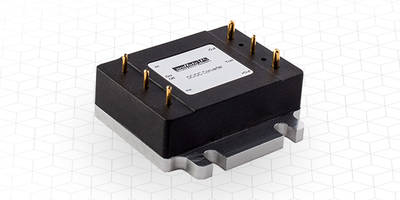 Murata's 1/16 Brick Encapsulated DC-DC Converters are suitable for lighting, motor drives, control modules, security systems, signs and computing applications. Units come with on/off logic control, output short circuit and over voltage protection. These converters are available with output of 3.3, 5 and 12 Vdc with up to 50 W of output power. Murata's converters feature encapsulated mechanical design that provides tolerance to shock and vibration.
---
Original Press Release:
Murata Launches Ultra-Efficient 1/16th Brick DC/DC Converters for Industrial and Railway Applications
Murata launches its latest in a series of encapsulated DC-DC converters designed specifically for industrial, railway, and industrial mobility applications. The 50 watt we from Murata Power Solutions provides market-leading efficiency using the latest technology for fixed frequency switching power supply architectures, in an industry standard 1/16th brick pinout.
Features
Baseplate cooling
Encapsulated mechanical design
On/off logic control
Output short circuit & overvoltage protection, along with, input under voltage lock out (UVLO) over temperature protection circuits
Basic insulation with 2250 Vdc input-to-output isolation and a fully regulated DC output
Includes modules with outputs of 3.3, 5 and 12 Vdc with up to 50 watts of output power
The universal Vin range of 18 – 75 Vdc meets the requirements of EN50155 for nominal input voltages of 37.5 Vdc and 48 Vdc including brown out and transient conditions
Benefits
With its wide 4:1 input range, the IRS-Q48 supports common bus voltages of 24 V, 28 V, 37.5 V, 48 V & 54 Vdc commonly found in industrial, industrial mobility and rail electronic systems
The electrical and mechanical design incorporates proprietary technology providing shock & vibration tolerance that meets or exceeds EN 61373:1999 Category 1, Class B, Body Mounted requirements
With an efficiency of 91 %, the converters operate cooler and more efficiently
Is available with an option for a standard or a flanged baseplate for various conduction cooling configurations including cold wall mounting
Applications
Rail eco system including, but not limited to
- Mobile communications signaling
- Lighting
- Signs
- Computing
- Motor drives
- Control modules
- Security systems
12 V, 24 V & 48 V battery systems
Smart grid systems
Intermediate bus
Harsh environment applications in networking equipment
Wireless networking equipment for mobile computing
Test equipment
Additional applications requiring a regulated 3.3, 5 and 12 Vdc source
More from Controls & Controllers