Murata Introduces KENKO Technology an Innovative AI Emotion Monitoring Solution
Press Release Summary: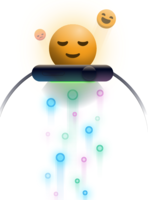 Cloud-based AI technology that integrates with different kinds of biometric sensors embedded in wearables and other IoT products
Converts data into meaningful information such as emotions and stress
---
Original Press Release:
Murata's AI Technology Creates a Calm and Comfortable Workplace Environment
Hoofddorp, Netherlands: Murata has announced that KENKO technology, an exciting, innovative AI emotion monitoring solution created in a joint development between Murata and TEM is being rolled out to the Japanese market.
KENKO is a cloud-based AI technology that integrates with different kinds of biometric sensors embedded in wearables and other IoT products. The technology is laying the foundation for the next generation of artificial intelligence – artificial emotions. Synergizing unique sensing methods with software learning capabilities creates intelligent mapping of the human emotional spectrum for a wide variety of user cases.
"With modern workplace culture becoming increasingly stressful, adding a new layer of mental-based analysis is already of essence", said Michinori (Mitch) Nozaki, General Manager, Business Innovation and Incubation at Murata Europe. 
Murata and start up company The Elegant Monkeys ('TEM', Tel Aviv, Israel) have teamed up with Mizuho Information & Research Institute ('MHIR' Tokyo, Japan) to provide the Japanese market with an innovative solution for generating corporate improvement and optimization processes by using human emotions data to improve employment environments, employee satisfaction, wellbeing, and profitability.
Healthcare systems in Japan and worldwide are facing huge challenges. Healthcare expenditure has become higher than ever and is growing each year. In parallel, many modern workplaces are intensive and complicated environments to manage. They are facing challenges in terms of employee satisfaction, productivity, wellbeing and more. The current structure causes market inefficiency that has been acknowledged to be unsustainable in the long run.
Said Shiyo TAKEOKA, consultant at MHIR, "While it was possible to obtain biometric data from wearable devices, meaningful analysis was difficult. KENKO Technology converts data into meaningful information such as emotions and stress".
In order to deliver an optimal end-to-end solution, each company will provide its own unique experience, know-how and technology. The complete solution includes hardware wearable product for vital sign data collection; Cloud-based AI for processing the vital signs data into objective emotional load measurement; and a consulting service in HR and management fields to extract insights and generate improvement on the customer side.
For further information and reader enquiries:
Dunya Kamil, Murata Electronics Europe B.V., Wegalaan 2, 2132 JC, Hoofddorp, The Netherlands
Tel: +31 (0) 23 56 98 456 E-mail: dkamil@murata.com
Fax: +31 (0) 23 56 98 361 Web: www.murata.com
Agency contact:
Rachel Sandeman, Publitek Limited, 18 Brock Street, Bath, BA1 2LW, United Kingdom
Tel: +44 (0) 2038 136425 E-mail: rachel.sandeman@publitek.com
Web: www.publitek.com
About Murata
Murata is a leading manufacturer of electronic components, modules, and devices. The complete range includes ceramic capacitors, resistors/thermistors, inductors/chokes, timing devices, buzzers, sensors and EMI suppression filters. Whilst the company is known as a global ceramic capacitor manufacturer, it is also a world leader in Bluetooth® & WiFi™ Modules, board-mount DC-DC converters and is a key manufacturer of standard and custom AC-DC power supplies.
Established in 1944, Murata is headquartered in Japan and has European offices in Finland, France, Germany, Hungary, Italy, the Netherlands, Spain, Switzerland and the UK.
For more information on Murata, please visit: www.murata.com. You can also follow us on Twitter @MurataEurope or LinkedIn http://www.linkedin.com/company/murata-electronics, or join us on Facebook at http://www.facebook.com/MurataElectronics.