Multitest's Q-Tip for Mercury(TM) Contactor Offers the Best First Pass Yield Over the Full Tri-Temp Range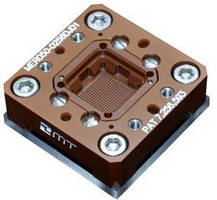 Rosenheim, Minnesota - Multitest, a designer and manufacturer of final test handlers, contactors and load boards used by integrated device manufacturers (IDMs) and final test subcontractors worldwide, announces that its Mercury(TM) contactor with Q-tip successfully passed a two-month evaluation at a US-based IDM with test operations in Southeast Asia with excellent first-pass yield for more than 500k insertions.

Single point spring probes face limitations in terms of targeting a large enough area to ensure contact with device under test (DUT) pads over the full temperature range of -55° to 150°C. Multitest studied how materials change over various thermal conditions and applied this knowledge to provide optimum probe targeting.

The triple edge tip geometry of the Q-tip design improves probe to DUT pad alignment targeting, especially over all ranges of temperature testing. Improved targeting means more reliable contact and higher first pass yields.

The Mercury(TM) Q-tip demonstrated superior performance during the tri-temp high-volume evaluation on a 0.4 mm pitch QFN application. For more information, visit http://multitest.com/mercury/.

About Multitest

Multitest (headquartered in Rosenheim, Germany) is one of the world's leading manufacturers of test equipment for semiconductors. Multitest markets test handlers, contactors, and ATE printed circuit boards. Globally, more than 700 employees serve the company's customers in offices and branches in North America, Singapore, Malaysia, the Philippines, Taiwan, China and Thailand. For more information, visit www.multitest.com.

More from Computer Hardware & Peripherals