Multiroom Audio System distributes 48 channels of HD audio.
Press Release Summary: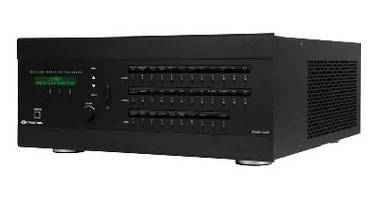 Combining amplifier, matrix switcher, and digital audio processor, Sonnex(TM) 24X8 Multiroom Audio System transmits 48 channels of uncompressed 24-bit HD audio across single shielded CAT5-type cable. System pumps 240 W per channel at 4 W to up to 74 speaker zones. For optimal sound quality in each zone, acoustics are customized and adjusted from room to room and for outdoor zones. System virtually eliminates need to pull bundles of speaker wire through walls and ceilings.
---
Original Press Release:

Crestron Sonnex(TM) Multiroom Audio System Distributes 48 Channels of HD Audio Over a Single Wire



All-in-One Design Combines Amplifier, Matrix Switcher and Digital Audio Processor; One-Wire Technology Speeds Up Installation Time of Multiroom Audio Systems Significantly Enabling Installers to Complete More Jobs Every Month

Crestron today announced that its Sonnex(TM) 24X8 Multiroom Audio System is now shipping. Sonnex(TM) transmits 48 channels of uncompressed 24-bit HD audio long distances across a single shielded CAT5-type cable to up to 74 zones. Featuring a breakthrough all-in-one high-efficiency hardware design and exclusive single-wire digital bus technology, Sonnex substantially reduces the hardware and cabling requirements of traditional systems while delivering maximum power and sound quality.

"The benefits of Sonnex to our custom installers are huge - never having to deal with speaker wire homeruns back to the central closet reduces installation times significantly and allows installers to move on to the next job while their competitors are still pulling cable," said Crestron Director of Marketing, Vincent Bruno.

With installations of more than 8 zones, integrators simply add a SWAMPE-8 zone expander locally, rather than in the central rack. The only connection required back to the main rack is a single shielded CAT5-type cable. Pulling bundles of speaker wire through walls and ceilings is virtually eliminated. Add up to eight 8-zone expanders for a total of 74 zones with 24 sources. All speaker wire is local, meaning no more time-consuming speaker wire home runs all the way back to the central rack.

Because the high efficiency design generates much less heat than traditional amplifiers, Sonnex requires less rack space by eliminating the empty "breathing" space between components. The challenges of overheating components and the hassles of cooling the rack by installing and programming fans are solved.

Sonnex high-efficiency, cool-running design produces low power consumption while pumping a thunderous 240 Watts per-channel @ 4 Ohms to up to 74 speaker zones. For optimal sound quality in each zone, acoustics are easily customized and adjusted from room to room and for outdoor zones. Installer-friendly software enables quick EQ of a Sonnex system and fine tuning of custom speaker and room profiles to create the best sound based on each room's natural acoustic qualities.

For more information on Sonnex(TM) 24X8 Multiroom Audio System, please visit: http://www.crestron.com/sonnex

More from Materials