Multiprocessor Module supports ISR applications.
Press Release Summary: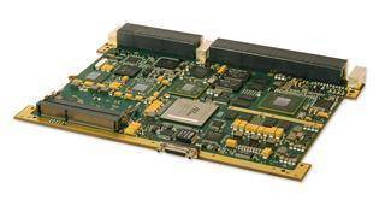 Combining 384-core NVIDIA® Kepler™ GPGPU technology with third generation Intel® Core™ i7 quad core processor, connected via 16-lane PCI Express Gen 3 switch, IPN251 6U OpenVPX GPGPU Multiprocessor supports demanding data-intensive applications, particularly ISR. On-board and backplane communication is maximized by use of PCI Express™ Gen 3 components, including dual-channel Mellanox ConnectX-3 10 Gigabit Ethernet/InfiniBand network interface card.
---
Original Press Release:

New Multiprocessor from GE Delivers Performance, Functionality in Less Space



• Combines NVIDIA® GPU and Intel® processor to deliver exceptional performance in intelligence, surveillance, reconnaissance applications

• Support for industry standards minimizes application development time, time-to-market, risk and cost

• Reduces network-dependent resources while expanding sensor capability



HUNTSVILLE, AL -- GE Intelligent Platforms (NYSE: GE) today announced the rugged IPN251 6U OpenVPX GPGPU Multiprocessor at the GPU Technology Conference (GTC – San Jose, California).



The IPN251 brings three key benefits to defense prime contractors and systems integrators, further extending GE's leadership in High Performance Embedded Computing (HPEC) solutions that are capable of being deployed in the harshest environments.



First, it responds to the growing demand to provide more functionality within a constrained SWaP (size, weight and power) envelope. The massively parallel nature of GPGPU (general purpose computing on a graphics processing unit) technology allows larger numbers of more sophisticated algorithms to be processed in a single chassis slot than is possible with conventional computing.



Second, by allowing more processing to take place on a vehicle, it means that the platform is less dependent on the external network, and can become more self-sufficient – which also frees valuable network bandwidth for other applications. It also allows the vehicle's sensor capability to be expanded enormously, as processing of sensor-derived data can take place on board.



Third, it reduces time-to-market and time-to-revenue for systems integrators and prime contractors, while minimizing risk and cost. The IPN251 does this by harnessing proven 'best practice' from commercial High Performance Computing. By using open, industry hardware and software standards that are well understood and that benefit from a substantial support infrastructure, the IPN251 allows development time to be significantly reduced.



"The IPN251 truly has the potential to enable solutions to be deployed that can transform combatants'' access to timely, relevant information," said Rod Rice, General Manager, Military & Aerospace Products at GE Intelligent Platforms. "It responds to the growing volume of sensor data – such as radar, sonar, video and RF – and, with its powerful processing capability, allows meaningful intelligence to be derived from what would otherwise be just a 'sea of noise' for applications such as object identification and tracking, IED detection, wide area persistence surveillance and even autonomous navigation."



A successor to the IPN250, the IPN251 combines the latest 384-core NVIDIA® Kepler™ GPGPU technology with a third generation Intel® Core™ i7 quad core processor to deliver outstanding computing performance in a wide range of demanding data-intensive applications, particularly ISR (intelligence, surveillance, reconnaissance).



The IPN251 offers substantially improved performance not only because of the more powerful NVIDIA technology it incorporates, but also through its support of GPUDirect™, which delivers superior data transfer times with the lowest latency and maximum throughput. A GE presentation at GTC on March 20 will provide more details on this capability, and a white paper is available for download here.



On-board and backplane communication is maximized by the use of PCI Express™ Gen 3 components, including the dual-channel Mellanox ConnectX-3 10 Gigabit Ethernet/InfiniBand network interface card. The third generation Intel Core i7 CPU and the GPU are connected via a 16-lane PCI Express Gen 3 switch.



The IPN251 is designed to fit into GE's HPEC solution set, allowing sophisticated application-targeted systems to be architected. The solution set includes the SBC625 3rd Generation Intel Core i7 single board computer: the GBX460 10 Gigabit Ethernet Switch; the DSP280 dual quad-core multiprocessor; a wide range of I/O; AXIS Multiprocessing Software; development chassis; and rugged deployable chassis.



For more information on GE's HPEC capability: http://www.ge-ip.com/mission_critical



About GE

GE (NYSE: GE) works on things that matter. The best people and the best technologies taking on the toughest challenges. Finding solutions in energy, health and home, transportation and finance. Building, powering, moving and curing the world. Not just imagining. Doing. GE works. For more information, visit the company's website at www.ge.com.



For more information: http://defense.ge-ip.com/products/ipn251/p3709



For more technical information: http://defense.ge-ip.com/download/datasheet-ipn251/13492/3709



NVIDIA is a registered trademark, and Kepler and GPUDirect are trademarks, of NVIDIA Corporation. Intel is a registered trademark, and Core is a trademark, of Intel Corporation. PCI Express is a trademark of PCI-SIG. All other trademarks are the property of their respective owners.



Conntacts:

Ian McMurray

GE Intelligent Platforms

Phone: +44 (0) 1327 322821

Email:

[email protected]