Multiprocess Welder withstands harsh environments.
Press Release Summary: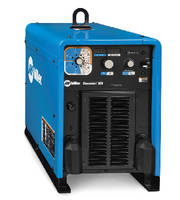 Housed in corrosion-resistant aluminum case, Dimension™ 650 features gouging mode that provides 800 A of usable power. Full 650 A of power at 100% duty cycle makes unit suitable for heavy gouging with 3/8 in. carbons, while optimized short-arc MIG performance offers precision for welding of thin metals. Additional features include input inductor that protects against dirty power and Wind Tunnel Technology™ that directs internal airflow to protect sensitive electronics from dust and dirt.
---
Original Press Release:

New Miller Multiprocess Welder Offers Big Capabilities in a Smaller Package



Compact power source meets output requirements ranging from power-intensive to precise



APPLETON, Wis. — Designed specifically to withstand harsh environments, the new Dimension™ 650 multiprocess welder from Miller Electric Mfg. Co. offers an unbeatable combination of durability, output, efficiency and capability — all in a smaller, easier-to-handle package. The Dimension 650 provides both power-intensive output for heavy welding and carbon-arc gouging, as well precision arc characteristics designed for thin-metal welding.



This compact and energy efficient machine features a tough, corrosion-resistant, all-aluminum case to protect against the environment. Exclusive protection input inductor protects against "dirty power" commonly found on jobs, preventing power fluctuations from affecting performance or reliability. Adding to its durability, Miller-exclusive Wind Tunnel Technology™ directs internal airflow to protect sensitive electronic components from dirt, dust and debris, significantly improving reliability. Fan-on-Demand™ operates only when needed, reducing noise, power consumption and the amount of airborne contaminants that are pulled through the machine. 3-1/4 inches of ground clearance keeps the machine away from water, mud and dirt to protect interior components.



The reduced size and weight of the new Dimension 650 makes it easier to handle while still providing the welding performance of a larger machine. Compared to the legacy Dimension 652, the new Dimension 650 is 3-1/2 times lighter and has a 40 percent smaller footprint, making it easier to move.



The Dimension 650 features high electrical efficiency that allows for more welding using 32 percent less power. Its full-load welding draws fewer than 50 amps of power, so the machine can function properly in a wider variety of locations.



The machine's gouging mode provides 800 amps of usable power. A full 650 amps of power at 100 percent duty cycle makes the Dimension 650 ideal for heavy gouging with 3/8-inch carbons and the exceptional short-arc MIG performance offers the necessary precision for welding of thin metals — with less risk of distortion or burn-through. The machine also provides excellent Stick and Lift-Arc™ TIG welding capabilities, and easier fine-tuning of the arc makes superior performance possible even on tough-to-weld materials and out-of-position applications. A Subarc (SAW) mode provides capability to retrofit into non-digital Subarc applications and a Flux-Cored Arc Welding (FCAW) mode provides reliable welding performance for wires commonly found in infrastructure construction.



About Miller

Miller Electric Mfg. Co., headquartered in Appleton, Wisconsin, is a leading worldwide manufacturer of Miller brand arc welding products and is a wholly owned subsidiary of Illinois Tool Works Inc. (NYSE: ITW). For more information, visit www.MillerWelds.com,  call 1-800-4-A-Miller (800-426-4553), email info@millerwelds.com, fax 877-327-8132, or write to Miller Electric Mfg. Co., P.O. Box 100, Lithonia, GA 30058.

More from Electrical Equipment & Systems