Multiprocess Welder supports heavy carbon arc gouging.
Press Release Summary: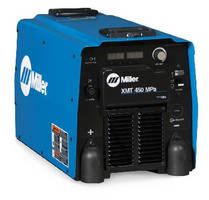 Rated 450 A at 100% duty cycle, Model XMT® 450 MPa supports Pulsed MIG welding with .052 and 1/16 in. wires. Unit is also optimized for MIG, Stick, TIG, and Flux Cored welding processes. As welder manipulates wire feed speed on gun, system automatically adjusts pulse parameters to match that speed. Hot Start(TM) increases amperage at start of weld to eliminate electrode sticking. With SharpArc(TM) technology, operator has control over puddle and bead characteristics.
---
Original Press Release:

Miller's New XMT® 450 MPa Multiprocess Welder Provides Increased Power and Performance in Pulsed MIG and Heavy-Duty Welding Applications



New machine offers one of the industry's most powerful and consistent options for Pulsed MIG welding. It features increased power and duty cycle ideal for heavy carbon arc gouging and large diameter welding applications. It is also optimized for MIG, Stick, TIG, and Flux Cored welding processes.

APPLETON, Wis., - Miller Electric Mfg. Co. introduces the new XMT® 450 MPa multiprocess welder - a powerful new inverter-based power source that features the reliability and arc performance of the XMT 350 MPa but with more amperage, exceptional power efficiency and additional programs for Pulsed MIG welding with up to .052- and 1/16-inch wires. Rated at 450 amps at 100 percent duty cycle, the new XMT 450 MPa:

o Improves productivity with increased amperage and duty cycle, allowing workers to weld or gouge longer, and with larger diameter wires and electrodes.

o Improves power efficiency compared to older equipment. This reduces energy costs and allows companies to run more welding equipment off existing power.

o Simplifies the user interface and controls for ease of operation. This includes a process selector switch and large, dual digital meters.

o Offers synergic Pulsed MIG welding capabilities when matched with 74 MPa Plus and AlumaFeed(TM) feeders and an XR-AlumaPro or XR-Pistol MIG gun. As the welder manipulates the wire feed speed on the gun, the system automatically adjusts pulse parameters as the welder is working to match that wire feed speed. This allows the welder to weld on thick or thin materials without having to change multiple parameters.

Ideal for work in fabrication, construction, shipbuilding, truck and trailer manufacturing, and maintenance and repair operations, the XMT 450 MPa also features remote control capabilities with either the new XMT WCC or Wireless Remote Control products from Miller. The XMT 450 MPa is also compatible with voltage-sensing wire feeders for MIG and Pulsed MIG applications.

Proven Technologies, Advanced Arc Control

Miller's XMT 450 MPa technology features advanced arc control for improved Pulsed MIG welding. The operator has more control over puddle and bead characteristics using Miller's exclusive SharpArc(TM) technology. Lower SharpArc settings widen the arc cone, increase puddle fluidity and flatten the weld bead. Increasing the setting creates a narrower bead for getting in to tight joints and fixtures.

The new XMT 450 MPa features many of the technologies welders have come to trust in Miller's XMT series of inverter-based multiprocess power sources: Lift-Art(TM) TIG for starting the arc without the use of high frequency in TIG welding; Adaptive Hot Start(TM) for increased amperage at the start of the weld to eliminate electrode sticking; Line Voltage Compensation for keeping the welding output consistent even if input power varies; Fan-on-Demand(TM) cooling system that operates only when needed, reducing noise, energy use and contaminants pulled in to the machine; and Wind Tunnel Technology(TM) that protects electrical components and PC boards from contamination.

About Miller

Miller Electric Mfg. Co., headquartered in Appleton, Wis., is a leading worldwide manufacturer of Miller brand arc welding equipment and is a wholly owned subsidiary of Illinois Tool Works Inc. (NYSE: ITW).

For more information, visit Miller's website at www.MillerWelds.com, call 1-800-4-A-Miller (800-426-4553), e-mail info@millerwelds.com, fax 877-327-8132, or write to

Miller Electric Mfg. Co., P.O. Box 100, Lithonia, GA 30058.

More from Electrical Equipment & Systems