Multipole FPC Connector features 0.3 mm pitch and 90 pins.
Press Release Summary: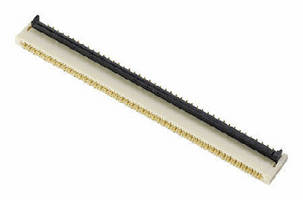 With height of 1.1 mm and depth of 4.3 mm when slider is locked, Model XF3E is suited for digital devices, such as smartphones, mobile phones, PCs, optical disk drives, and LCD projectors. Flexible Printed Circuit connector incorporates backlock mechanism and has double-sided contact point structure that accepts any FPC insertion direction. Rated at 0.2 A ac/dc and 50 Vac/dc, connector features contact resistance of 80 mW at 20 mV and 100 mA max.
---
Original Press Release:

OMRON to Release XF3E Backlock Multipole FPC Connector with 0.3 mm Pitch, 1.1 mm Height, and the Industry's Largest Pin Count



Kyoto, Japan - OMRON Corporation (TOKYO: 6645, ADR: OMRNY) today announced plans to release the XF3E, a 1.1 mm-high FPC (flexible printed circuit) connector with a pitch of 0.3 mm and 90 pins - the largest pin count of its kind - on July 30, 2010. FPC connectors are used in a wide range of digital devices, including smartphones, mobile phones, PCs, optical disk drives, and LCD projectors.

Development Background

With the recent increases in the amount of information transmitted within digital devices, demand is increasing for multipole FPC connectors. In particular, the incorporation of an increasing number of functions into touch panel-equipped mobile devices will increase signal lines, and this is expected to result in a growing need for connectors with higher pin counts.

Demand is growing for high pin-count FPC connectors that have low-profile configurations that cater to the trend toward smaller and slimmer devices, and those that feature highly impact-resistant backlock mechanisms that are better able to withstand use in mobile devices. OMRON's new XF3E FPC connector was developed to meet all of these varied needs simultaneously.

Features

The XF3E FPC connector manages to accommodate 90 pins despite its small size, with a pitch of 0.3 mm, a height of 1.1 mm, and a depth of 4.3mm (when the slider is locked).

o A lower-profile, smaller footprint design has been achieved while incorporating a backlock mechanism.

o The double-sided (upper and lower) contact point structure accepts any FPC insertion direction for increased freedom in device design.

o The connector is environmentally friendly as it can be used with halogen-free components.

Price: Open

Sales Target: 2,000,000 units/month

Factory in Charge: OMRON Corporation Yasu Factory

Main Ratings and Specifications

Connector Specifications

Pitch: 0.3 mm

On-board height: 1.1 mm

Depth: 4.3 mm

Applicable FPC thickness: 0.2 mm

Contact type: Upper and lower

Ratings and Specifications

Rated current: 0.2 A AC/DC

Rated voltage: 50 V AC/DC

Contact resistance: 80 mW max. (at 20 mV max., 100 mA max.)

Withstanding voltage: 250 V AC for 1 min. (leakage current: 1 mA max.)

Insertion tolerance: 20 times

Ambient operating temperature: -30 to 85°C (with no icing or condensation)

Materials and Finish

Housing: LCP resin (UL94V-0)/natural

Slider: LCP resin (UL94V-0)/black

Contacts: Spring copper alloy/nickel substrate (2 µm)

Gold-plated contacts (0.15 µm)

About OMRON

Headquartered in Kyoto, Japan, OMRON Corporation is a global leader in the field of automation. Established in 1933 and headed by President Hisao Sakuta, OMRON has more than 33,000 employees in over 35 countries working to provide products and services to customers in a variety of fields including industrial automation, electronic components industries, social systems and healthcare. The company is divided into five regions with head offices in Japan (Kyoto), Asia Pacific (Singapore), China (Shanghai), Europe (Amsterdam) and US (Chicago). For more information, visit OMRON's Web site at http://www.omron.com/

Sales Inquiries

Seiji Shimada (seiji_shimada2@omron.co.jp)

OMRON EMC Connector Division

Tel.: +81-44-812-3432

Media Inquires

Arlo Cook (arlo_cook@omron.co.jp)

OMRON Corporate Communications Department

Tel.: +81-3-3436-7202

More from Architectural & Civil Engineering Products