Multipole Connectors resist electromagnetic interference.
Press Release Summary: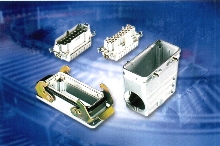 Revos Series connectors have shielded housings, hoods, materials, and cable glands that provide protection against electric, magnetic, and electromagnetic fields, and meet EMC standards for resistance to EMI. Zinc-plated steel locking levers ensure secure fit between hoods and housings. Die-cast aluminum alloy housings with silver-plated conductive surface channel EMI away from connection points. Connectors are UL rated to 16 A, 600 V for wire sizes 20-12 AWG.
---
Original Press Release:

Wieland Provides Electromagnetic Compatibility (EMC) Through Shielded Housings


BURGAW, N.C. (August 21, 2002)- Promoting a new level of integrated industrial interconnect systems, Wieland Electric Inc. has developed a series of connectors that meet EMC standards for resistance to electromagnetic interference (EMI). Employing a combination of shielded housings and rated cable glands, Wieland's multipole connectors provide protection against electric, magnetic or electromagnetic fields, which may damage or interrupt industrial controls.

"As industrial networks become larger and more complex, it is more important than ever to protect these interconnections from electromagnetic interference," said Wieland product manager Robert Ourt. "Through a combination of materials, hoods and housings and cable glands, Wieland has been able to set a standard in EMC with its revos multipole line."

Within Wieland's revos industrial multipole connector series, EMC is achieved through the use of die-cast aluminum alloy housings with a silver-plated conductive surface to channel electromagnetic interference away from internal connection points. In addition, the revos Series includes zinc-plated steel locking levers to ensure a secure fit between hoods and housings. EMC rated cable glands are used to protect input and output points from interfering electrical fields. The glands are specially constructed of nickel-plated brass for its EMI shielding qualities.

Wieland's EMC multipoles are UL rated to 16A, 600V for wire sizes 20-12AWG. Configurations vary from 6-32 poles plus ground. Hoods and housings are IP55 rated (IP65 with matching cable glands).

Pricing for Wieland's revos EMC connectors begins at $42.75 per complete set of plug and socket, hood and housing according to configuration. Product is available from stock.

Wieland Electric Inc. is a leading international manufacturer of wiecon PC board, selos, taris and fasis DIN rail terminal blocks, wire management products, revos (rectangular) connectors, electronic interface modules, vipos power supplies and ricos remote I/O communications systems. Based in Burgaw, N.C., Wieland operates manufacturing facilities worldwide and was the first terminal block supplier to achieve ISO 9001 and ISO 14001 certification. Along with nationwide sales and distribution networks in the U.S. and Canada, Wieland's North American operation provides value-added assembly, warehousing, computerized inventory control, customer service and engineering support.


More from Controls & Controllers