Multiplexer transmits 8 serial data channels over one fiber.
Press Release Summary: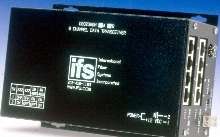 Environmentally ruggedized to meet NEMA TS-1/TS-2 requirements, plug-and-play D8000 Series fiber optic, 8-channel, full-duplex, serial data multiplexer can transmit up to 8 serial data signals over one or two multi-mode or single-mode optical fibers. Each channel may be independently configured for RS-232, RS-422, or RS-485 with 2 or 4-wire operation with tri-state. Single-mode version supports optical transmission distances of up to 37 miles.
---
Original Press Release:

New Fiber Optic Data Multiplexer Transmits 8 Serial Data Channels over One Optical Fiber


IFS D8000 Is Ideal for Applications Requiring Multiple Serial Data Channel Transmission Over One Optical Fiber

NEWTOWN, CT. September 8, 2003 - International Fiber Systems Incorporated (IFS), a leading manufacturer of fiber optic transmission equipment, has announced the introduction of its D8000 Series 8-Channel Serial Data Multiplexer. The IFS D8000 Series is an environmentally hardened, fiber optic 8-Channel Full-Duplex Serial Data Multiplexer. This equipment provides transmission of up to eight individual RS-232, RS-422 or RS-485 serial data signals over one or two multi-mode or single-mode optical fibers.

The D8000 series data multiplexer is ideally suited to those data networking applications where multiple channels of data must be transmitted over an existing or newly constructed optical cable plant where the available fiber count may be limited. Only one or two optical fibers are required, allowing the user to integrate multiple host or terminal communications equipment of RS-232, RS-422 or RS-485 protocol onto a common fiber network. Each of the eight data channels may be independently configured by the user for RS-232, RS-422 or RS-485 with two or four-wire operation with tri-state. The single-mode version of this equipment supports optical transmission distances of up to 37 miles end-to-end between data multiplexer units.

Typical applications include traffic signalization networks for Intelligent Transportation Systems (ITS), and industrial security applications, where access control, CCTV camera pan-tilt-zoom, and fire and alarm control systems are to be integrated into a single point-to-point network. The IFS D8000 Series was designed to maximize the utility of newly constructed fiber optic cable plants, or to increase the information capacity of existing plants where the cost of pulling additional fiber may be prohibitive. Provided in a compact, easy to install package, the D8000 series requires minimal space, making it ideal for those applications where equipment space may be limited, or where numerous units of point-to-point transmission equipment would occupy a significant amount of space.

The D8000 Series may also be used for increasing the transmission distance of traditional copper-based cabling networks. "Transmitting multiple channels of data over optical fiber with this equipment has an effective range of up to 37 miles, end-to-end. That is far more than conventional copper-based cabling systems, where the distance may be limited to relatively short runs per segment and are susceptible to EMI/RFI interference", said Nhu Dang, IFS Product Manager.

"With the emergence of wide area data networking within modern security and ITS applications, consultants, systems integrators and dealers were looking for solutions from IFS, and we've responded to those requests." said Bruce Berman, ITS Sales & Marketing Manager, International Fiber Systems

"We at IFS see an increasing demand for combining multiple data channels within a single optical fiber-based network. The D8000 Series was created for ITS applications such as traffic signalization networks, where multiple channels of traffic signal control data must be hauled over very long distances in an unconditioned roadside environment, and where a limited fiber count may be available. Additionally, many industrial security and factory automation systems present the user with difficulties such as electrical noise, radio frequency interference, and harsh environmental conditions that pose great demands on an out-of-plant fiber optic transmission network. "As the D8000 equipment is environmentally ruggedized to meet the requirements of NEMA TS-1/TS-2, these multiple data channel fiber optic multiplexers will be in great demand for these types of applications, which may require an ambient operating temperature range of -40 to +74 degrees C", said Berman.

The D8000 series features LED indicators that assist the installer and user in easily ascertaining transceiver operating status without the need for special test equipment. In addition, dry relay contacts are provided to activate an external fault alarm in the event of a fiber break or loss of operating power, and these units are available in standalone or rack mount versions.

Like all IFS products, the IFS D8000 Series features true plug-and-play design that ensures easy installation without the need for any electrical or optical adjustments. And like all IFS products, they are backed by an exclusive Lifetime Product Warranty.

About International Fiber Systems
Part of GE Interlogix. Inc., IFS is at the forefront of advances in fiber optic technologies. The company offers more than 300 analog and digital fiber optic products for commercial and industrial applications, which include CCTV, access control, data transmission, fire and alarm system applications, intelligent transportation systems, facility and building automation, and broadcast systems.

About GE Interlogix, Inc.
GE Interlogix, part of GE Industrial Systems, is a wholly owned subsidiary of the General Electric Company (NYSE: GE) focused on communication and information technologies for security, safety and lifestyle enhancements. GE Interlogix has operations in more than 30 countries and is represented by some of the best-known brand names for intrusion and fire detection, access and building control, video surveillance, explosive and drug detection, key management and structured wiring. For more information about GE Interlogix, please visit www.GE-Interlogix.com.

For more information, please contact Richard Malstrom at 203.426.1180; or e-mail IFS at sales@ifs.com. You may also find IFS on the World Wide Web at www.ifs.com. Electronic files of this release and photos of these products are available by contacting the IFS Marketing Department via e-mail t skiph@ifs.com.

More from Electronic Components & Devices