Multiplexer supports digital/analog (VF) interfaces.
Press Release Summary: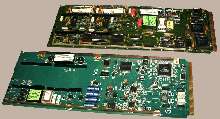 Model AN/FCC-100(V)9/9X, 16-channel multiplexer offers aggregate rate of 2,048 kbps and SNMP Management capabilities. Cards within multiplexer include Mux/Demux, FXS, FXO, and E&M Voice card. Unit supports digital interfaces in asynchronous and synchronous formats at rates from 50 bps to 768 kbps. Additional features include voice compression technology; support for STU-III, CDI, and serial applications; and Crypto Resync capability.
---
Original Press Release:

DNE Technologies Redesigns AN/FCC-100 Interfaces


-New cards mate continued demand with advanced technology

Wallingford, CT (USA) - DNE Technologies, a provider of voice and data communication solutions, announces the redesign of most of its interface cards for the AN/FCC-100 Multiplexer, allowing for continued support and deployment of this widely-fielded tactical multiplexer. DNE emphasizes that the redesign preserves interoperability with fielded units while bringing newer, more reliable technology to the AN/FCC-100 Multiplexer.

The AN/FCC-100 was first created in 1980 and is a 16-channel multiplexer with an aggregate rate of 2,048kbps. Since its inception, it has undergone nine nomenclatured variants to become today's AN/FCC-100(V)9/9X. Each variation incorporated new technology and new features, with V9/9X adding SNMP Management capabilities.

The first upgraded card was the Mux/Demux card, which launched in December of 2002. DNE recently completed the upgrade to the FXS card, which is now shipping. DNE revealed that a redesigned FXO card will be shipping before the end of March, 2003; followed promptly by the E&M Voice card. DNE states they have also redesigned several daughter cards, such as the CDI card, and will be redesigning the Processor and Port Carrier cards for shipment by the end of 2003.

Frequent users of DNE Multiplexers will notice the cards have relatively few circuit components when compared to older cards. "Technology has changed," says DNE Director of Engineering, Wayne Addy. "What used to take many components to execute can now be done with a few chips." He adds, "All cards will be a form, fit, and function replacement for what is already fielded." Mr. Addy also described the retrofit testing as "extensive".

"Our customers love the AN/FCC-100, and rely on it in critical situations," stated DNE Technologies President and CEO William Gill. "Its life has extended well beyond what we envisioned when it was first developed, and yet demand for it remains high. We needed to redesign most of the multiplexer to support continuing demand, as well as thousands of deployed units." He added that recent world events, such as Operation Desert Storm, peacekeeping missions in Bosnia, and Operation Enduring Freedom have contributed to the steady demand for the battle-tested communications product.

The AN/FCC-100(V)9 supports digital interfaces in both asynchronous and synchronous formats at rates from 50 bps to 768 kbps. Other features of the AN/FCC-100(V)9 include superior voice compression technology, and support for STU-III, CDI, and serial applications. The AN/FCC-100(V)9 multiplexer supports both digital and analog (VF) user interfaces and a wide variety of system timing configurations, and offers a Crypto Resync capability.

DNE Technologies has been a manufacturer of tactical communication products since 1951. In addition to the AN/FCC-100 Multiplexer, DNE manufactures ATM networking equipment for tactical applications, NRZ/CDI/Optical protocol converters, ISDN extenders, and Auto-Crypto Resync modules. DNE Technologies is an ISO 9001 registered company.

More from Agricultural & Farming Products