Multiple Element Gas Containers are suitable for rough road conditions.
Press Release Summary: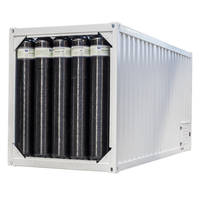 Used in long-term storage and transporting CNG for fueling vehicles, Multiple Element Gas Containers are light weight and feature Type III composite cylinders which provide high payload capacity and durability. Containers can be modified to store and transport industrial gases. Product is certified to ADR/TPED.
---
Original Press Release:
Worthington Industries Introduces Multiple Element Gas Container.
Worthington Industries, Inc. (NYSE: WOR) today announced the addition of a multiple element gas container (MEGC) to its alternative fuels storage and transportation portfolio. Designed for long-term storage and transportation of compressed natural gas (CNG), these containers make CNG accessible where it is not available by pipeline.
"Worthington's multiple element gas container supports our customers' interests in offering CNG to emerging markets where natural gas pipelines are not yet established," said Geoff Gilmore, president of Worthington Industries' Pressure Cylinders business. "The MEGC adds another dimension to our onboard fuel storage portfolio and is part of our strategy to offer products for every stage of natural gas storage and transport."
Worthington's MEGCs feature lightweight, Type III composite cylinders, which offer dual benefits of increased payload capacity and durability. The Type III-based gas container increases the amount of gas transported with each load when compared to a traditional steel tube trailer. Compared to Type IV cylinders, Type III cylinders are more durable, making them ideal for rough road conditions typically found in locations where pipeline infrastructure is not yet established. The gas containers are designed and certified to store and transport CNG for fueling vehicles, but can be modified to store and transport industrial gases as well.
Manufactured at Worthington Industries' Slupsk, Poland location, the gas containers are certified to ADR/TPED and are available to global markets excluding North America. Visit worthingtonindustries.com/MEGC to learn more.
About Worthington Industries


Worthington Industries is a valued supplier to the global alternative fuels market with the largest onboard fuel cylinder offering in the world, including products for storage and transport of compressed natural gas (CNG), liquefied natural gas (LNG), autogas (LPG) and Hydrogen (H2).
Worthington Industries is a leading global diversified metals manufacturing company with 2016 fiscal year sales of $2.8 billion. Headquartered in Columbus, Ohio, Worthington is North America's premier value-added steel processor providing customers with wide ranging capabilities, products and services for a variety of markets including automotive, construction and agriculture; a global leader in manufacturing pressure cylinders for industrial gas and cryogenic applications, CNG and LNG storage, transportation and alternative fuel tanks, oil and gas equipment, and consumer products for camping, grilling, hand torch solutions and helium balloon kits; and a manufacturer of operator cabs for heavy mobile industrial equipment; laser welded blanks for light weighting applications; automotive racking solutions; and through joint ventures, complete ceiling grid solutions; automotive tooling and stampings; and steel framing for commercial construction. Worthington employs approximately 10,000 people and operates 79 facilities in 11 countries.