Multiple Client Station combines 3 computers in 1.
Press Release Summary: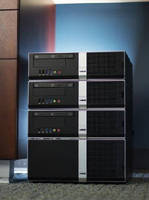 Equipped with secure KVM switch with remote control, Stratus MCS Desktop Computing System is intended for workers who must use separate computers to access secure domains, such as government NIPRNet, SIPRNet, and JWICS networks. Up to 4 PCs can share same keyboard, video display, and mouse. If required by heightened security policies, fourth PC may be located up to 36 in. away from stack. Common power supply enables quiet operation while optimizing efficiency and heat dissipation.
---
Original Press Release:

NCS Technologies Introduces Stratus MCS, a 3 PCs-in-1 Multiple Client Station for Secure and Energy Efficient Multiple Domain Computing



Improved PC Ergonomics and Industry's First Secure KVM Switch with Remote Control



GAINESVILLE, Va., -- NCS Technologies, Inc. (www.ncst.com), a leading domestic computing systems manufacturer for government, enterprise and education, announced the availability of Stratus MCS, an integrated, compact desktop computing system for workers who must use separate computers to access secure domains, such as government NIPRNet, SIPRNet and JWICS networks.



Many military and government employees are required by security policies to use separate PCs on their desks to access multiple networks. In enterprise applications such as financial services and software development, managers also often institute a multiple-PC strategy.



In these implementations users contend with excessive heat and noise, high energy consumption, desktop and legroom crowding from multiple PC chassis as well as inconvenient cabling from KVM (keyboard, video and mouse) switches needed to control each PC.



The integrated Stratus MCS modular computing solution is designed to solve all these challenges.



Stratus MCS has a compact design, improved ergonomics made possible by the secure KVM switch and remote control, advanced power efficiency, and superior heat dissipation. Up to four PCs can share the same keyboard, video display and mouse. If required by heightened security policies, a fourth PC may be located up to 36 inches away from the stack.



"In our market research, we saw many cases where users with multiple PCs operated in overcrowded, uncomfortable and inefficient work spaces," said Dewayne Adams, vice president, NCS Product Development. "The Stratus MCS desktop computing solution was designed to solve this real-world problem. It's secure, compact, energy efficient and easy to use."



"We designed an integrated system of three discrete energy-efficient PCs and a remote-controlled KVM to form a sleek, modular stack about the size of one standard minitower," he said. "Critical for security policies, each PC maintains complete autonomy. Just select the PC needed using the industry's first secure KVM switch operable with a remote control."



With the Stratus MCS remote control, full system and KVM selection status are easily determined through LCD and LED indicators. The remote has large buttons for KVM and power switching - no more awkward reaching for the power button on each PC.



Stratus MCS Features

--  Industry's first secure KVM switch operable with a remote control

--  Remote control permanently mated with KVM for enhanced security

--  Common power supply for high efficiency, heat dissipation and quiet operation

--  Each PC can be configured with its own power supply for mission critical applications

--  Rapid start lets a PC enter power saving mode and then wake up as soon as the KVM switches to it

--  Two PC module case sizes are available for different configurations and expansion options

--  NIAP certification pending



For a demonstration, visit the NCS booth #1837 at AFCEA West, San Diego, Jan. 29-31. For more information, visit www.ncst.com/content/stratus-mcs.



In 2012, NCS Technologies was named Microsoft US OEM Partner of the Year.



About NCS Technologies, Inc.

NCS Technologies, founded in 1996, builds high quality computing solutions for government, education, enterprise and OEM customers. More than one-half million NCS computing systems have been installed around the world. Please visit www.ncst.com.



Additional Information:

John Callahan

NCS Technologies, Inc.

703.743.8586

More from Fasteners & Hardware