Multipart Sling safely facilitates lifting of heavy loads.
Press Release Summary: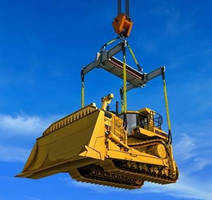 Able to be rigged manually by one or two workers within minutes, Fortis² comes in various lengths that can be custom-fitted. Cordage material, Unitrex XS™, exhibits resilience to water, salt, and corrosion with load-bearing Honeywell Spectra® core, braided in parallel for strength and stiffness, encased with neoprene layer and overbraided with abrasion-resistant polyester. Capacities range from 28,000–550,000 lb, and product will not absorb water, freeze, or rust.
---
Original Press Release:

Yale Cordage Announces Fortis2, Its Strongest Lifting Sling Yet



Technology makes heavy industrial lifts safer and easier



SACO, Maine – Specialty synthetic rope manufacturer Yale Cordage has added a new heavy-lift multipart sling named Fortis(2) to its growing line of industrial products.



Built with Yale's proprietary Unitrex XS(TM) Max Wear cable and recently awarded a U.S. patent, number 9,145,280, the Fortis(2) Sling has the tensile strength and stiffness of steel wire at one-fifth of the weight. These vastly improved specifications are revolutionizing the way work gets done in shipyards, rail yards and other industrial settings where objects weighing in the hundreds of tons routinely need to be lifted and moved.



The name "Fortis(2)" was also specifically crafted for this product. Fortis is Latin for strong, powerful, firm, and the s(2 )signifies the strength and synthetic aspects of the sling.



Owner Tom Yale notes an initial case study of Fortis(2) use with famed shipyard Bath Iron Works.



"BIW workers have used Yale's LOUPS (softer, more flexible lifting slings) for years, but used wire when it was necessary to push a sling underneath a load on the ground. With Fortis(2), they no longer have to do that -- it's stiff enough to push. So as the shipyard retires its old wire slings, it's replacing them with Fortis(2). Other shipyards have followed suit.



It's a smart business decision, and one that workers appreciate too. Because Fortis(2) Slings are so much lighter than their wire counterparts, they're naturally easier to rig. What once took hours and involved a crane or other mechanical assistance can now be done manually by just one or two workers and takes just minutes.



Improved ergonomics follow, but the safety benefits don't stop there. Fortis(2) Slings don't pose the same grave safety hazards of wire: things like broken strands, sharp edges, birdcaging and jaggers. When left in an outdoor yard, they won't absorb water, freeze or rust, and they're also easier to inspect than wire multipart slings. All of this adds up to a more predictable, reliable lifting system and a safer work zone."



Yale's maritime and electrical utility customers already use the Fortis(2) Sling's cordage material, Unitrex XS(TM), in a variety of ways: as a stringing line, bull line, mooring line and more. It's optimized for high strength, long wear and impressive resilience to water, salt and corrosion, starting with a load-bearing Honeywell Spectra® core that's braided in parallel for extra strength and stiffness. Then the rope is encased with a neoprene layer and overbraided with abrasion-resistant polyester.



"We're looking forward to seeing how different industrial clients choose to leverage this technology," said Tom Yale. "I could see our maritime customers using Fortis(2) to lift equipment in and out of the water, or even to load containers onto barges."



Yale went on to say, "When you consider that on a cargo vessel, every pound of wire or chain displaces a pound of product, and every minute spent on rigging is a delay to consumers, having a lighter lifting sling on board could pay off fast."



Fortis(2) Slings are available in a variety of lengths that can be custom-fitted by Yale Cordage's engineers. Full specifications are available on the company's website at http://www.yalecordage.com/industrial-rope/rope-slings-fabrications/fortis2sling.html.



About Yale Cordage

Saco, Maine-based Yale Cordage is a custom and specialty rope manufacturer that employs leading cordage engineering and technology to high-tech synthetic fibers to create innovative, application-specific ropes. These include lifting slings and safety lanyards for industrial use; winch lines, stringing lines and pulling lines for utilities; climbing and hand lines for arborists; faired electromechanical cables for oceanographic arrays; and an array of marine ropes used in various applications -- from light-duty halyards for pulling dinghies to hawsers for mooring commercial tankers. For more information, please visit www.yalecordage.com.



CONTACT: Yale Cordage: Jamie Goddard, 207-494-1013, jgoddard@yalecordage.com; or Industrium: Kate Bachman, 207-773-0700, ext. 223, kbachman@industrium.com

More from Mechanical Power Transmission