Multimode Retort speeds food sterilization process.
Press Release Summary: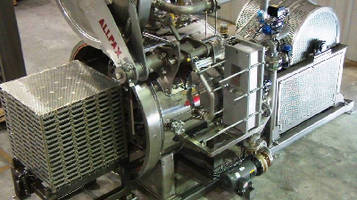 Featuring Shaka® technology, Model 2402 R/D Retort applies back and forth agitation to sterilize any type of food thin enough to move within container, such as soups, sauces, dips, and baby food. Seven changeable agitation modes and variety of combinations are available, including saturated steam, steam air overpressure, water immersion, water spray, and water cascade processes. System can handle cans, pouches, cartons, glass jars and bottles as well as plastic cups and trays.
---
Original Press Release:

Allpax Demonstrates Productivity and Quality Advantages of Shaka® Retort Agitation at Pack Expo 2011



COVINGTON, La., - Using its innovative 2402 multimode R & D retort, Allpax Products, powered by Pro Mach, will demonstrate at Pack Expo 2011 in Las Vegas, September 26-28, how Shaka® agitation improves the taste, texture, appearance, and nutritional quality of shelf-stable food.

See the new 2402 R&D retort featuring Shaka technology at the Allpax Booth #C-1416 and hear a presentation by Greg Jacob, vice president and general manager, Allpax, on the productivity, quality, and energy savings from the new Shaka retort on Tuesday, September 27, at 2 p.m. on the Pack Expo Innovation Stage of the Candy Bar Lounge #S-7000.

This summer Allpax shipped the first production Shaka® retort licensed in the United States to a major food manufacturer. The Shaka process applies back and forth agitation during the retort process to sterilize food faster through improved thermal transfer - up to 90 percent faster depending on the package and food. Faster processing through the Shaka process has a profoundly positive impact on the final product. Allpax is one of only two retort manufacturers in the world and the only one in the U.S. licensed from UK-based Zinetec to manufacture and sell Shaka technology.

Any type of food thin enough to move within the container when agitated will sterilize quickly under the Shaka process. Soups, sauces, ready meals, dips, spreads, baby food, pet foods, and more are all candidates. A Shaka overpressure retort equipped with a suitable retort basket for the package will sterilize cans, pouches, cartons, glass jars and bottles, small foodservice containers, and plastic cups, trays, and bottles.

"Since we shipped the first production Shaka retort, we've seen a marked increase in customers wanting to know more about it," said Greg Jacob, vice president and general manager, Allpax. "Using the 2402 R & D retort for demonstration at Pack Expo, we will be able to show and discuss why the Shaka agitation process is so revolutionary in terms of quality and productivity."

The unique Allpax 2402 multimode R & D retort comes in a wide variety of combinations that can include: Saturated steam, steam air overpressure, water immersion, water spray, and water cascade processes in combination with seven easily changeable modular agitation modes - still, end-over-end, swinging, Gentle Motion shaking (low-speed), the Shaka process shaking (high-speed), hydrostatic simulation, and axial rotation. The unit can handle cans, bottles, pouches, cups, trays, metals, glass, plastics, and double seam film and foil closures.

This R and D retort is equipped with the production version of the Allpax control software, which is 21 CFR Part 11 compliant for recipe editing, batch logs, and security functions. The Allen-Bradley PLC-based HMI makes switching between sterilization processes fast and easy, creating an almost infinite number of processing possibilities as manufacturers look for optimum efficiency, quality, and taste.

Last Spring The National Food Lab (The NFL) installed the most advanced 2402 laboratory retort ever built by Allpax. The high capacity stretch unit offered every heat and agitation mode available in one flexible unit. Speaking about the advantages of this lab retort, Terry Berman, division manager of commercialization at The NFL, said, "The NFL's new retort capability means faster time-to-market for new products and potentially better sterilization solutions for products already on the market."
Talk with Allpax at Pack Expo 2011 Booth # 1416 about Shaka, the 2402 multimode R & D retort, the company's new waste-heat energy recovery system, high speed automation for small footprint retort rooms, production retorts, Shaka and Gentle motion agitation, control systems, refurbished retorts, and products and services for older canneries relying on vertical retorts. For information now on Allpax products and services for retort rooms, call 1-888-893-9277 and visit Allpax.com.
985.893.9277

About Allpax Products

Allpax Products, a market leader in retort technology and retort room automation, designs, manufactures, and delivers turnkey sterilization solutions for the food, beverage, pet food, and pharmaceutical industries. The company is recognized for helping customers become more successful by decreasing time to market with laboratory retort equipment, lowering overall labor costs through automation, and increasing the overall throughput of the sterilization process. Allpax.com

About Pro Mach

Pro Mach, Cincinnati, Ohio, is a leading provider of integrated packaging products and solutions for food, beverage, household goods, pharmaceutical, and other diverse consumer and industrial companies. Through three business units and related divisions, Pro Mach provides equipment, training, installation, and parts in primary packaging, end-of-line packaging, and identification and tracking. ProMachInc.com

Media Contact:

Jack Aguero

513-831-8778

jaguero@ProMachInc.com

More from Mechanical Power Transmission