Multilayer Varistors offer nickel-barrier termination.
Press Release Summary: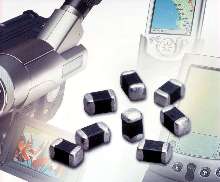 Multilayer varistor (MLV) products, with nickel-barrier termination, enhance solderability by improving wetting characteristics of termination to resist sliding and tombstoning during board-assembly process. Plated-nickel layer is placed over standard silver termination to ensure that termination is immune to solder leaching. Tin plating, placed over nickel layer, improves solder wetting characteristics. Option suits manufacture of digital consumer technology products.
---
Original Press Release:

New MLV Nickel Barrier Termination Improves Solderability in High Density PCB Applications


DES PLAINES, Illinois, April 4, 2003 - Answering growing concerns about manufacturing yields for printed circuit boards populated with increasingly smaller components, Littelfuse, Inc. (NASDAQ/NMS:LFUS) introduces a nickel barrier termination option for its complete line of 0402 (EIA 1005) size multilayer varistor (MLV) products. This feature enhances the solderability of the MLV's by improving the wetting characteristics of the termination and thus resisting sliding and tombstoning during the board assembly process. The improved solderability feature is especially important in the manufacturing of digital consumer technology products (handheld devices, computers, game consoles, etc.) where board space is at a premium. The Littelfuse nickel barrier treatment (enabled by a soon-to-be patented process) provides a component with greater flexibility in board layout and processing. It maintains high quality solder coverage, superior fillet heights and resistance to tombstoning. In addition to its 0402 sizes, Littelfuse is now able to offer the nickel barrier option for all of its MLV products.

Circuit board layout issues such as solder pad size and orientation or proximity to larger components (that act like heat sinks) can contribute to poor solder performance, as can choice of time versus temperature profile. Extremely small components (i.e. 0402 outline) with silver based termination options are more susceptible to these soldering issues than devices with nickel barrier terminations. In the nickel barrier process, a plated nickel layer is placed over the standard silver termination to ensure that the termination is immune to solder leaching. Tin plating is then placed over the nickel layer to improve solder wetting characteristics.

With the new addition to the multilayer varistor families, Littelfuse added to its industry leading electrostatic discharge (ESD) suppression portfolio. The Littelfuse ESD suppression portfolio includes multilayer varistors (MLVs), silicon rail-clamp and TVS diode arrays as well as ultra-low capacitance PulseGuard® polymer products to provide design engineers with the broadest range of electrostatic discharge (ESD) solutions in the industry. Protecting data lines, signal lines, and power buses, these products provide value to the electronics industry by ensuring reliable performance of applications in the event of user (ESD) generated transients.

For samples and additional information regarding the new nickel barrier termination option for Littelfuse multilayer varistors or to learn more about ESD protection please visit www.littelfuse.com, email us at electronics@littelfuse.com or call us at (847) 824-1188.

Littelfuse is a global company offering the broadest line of circuit protection products in the industry. In addition to its Des Plaines, Illinois, world headquarters, Littelfuse has manufacturing facilities in England, Ireland, Switzerland, Mexico, Korea, China and the Philippines, as well as in Centralia, Des Plaines and Arcola, Illinois. It also has sales, engineering or distribution facilities in the Netherlands, Singapore, United Kingdom, Hong Kong, Taiwan, Japan, and Brazil. For more information, please visit Littelfuse's Web site at www.littelfuse.com.

More from Packaging Products & Equipment