Multilayer Varistor is offered in sub 1 pF version.
Press Release Summary: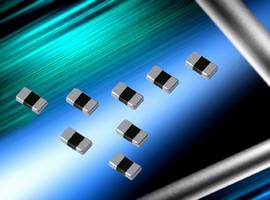 Protecting high speed digital interfaces, RF antenna, and RF amplifier circuits against ESD events, sub 1 pF AntennaGuard delivers 0.8 pF capacitance at 10 and 15 V rating. Application specific, bi-directional transient voltage suppressor features fast response time to ESD and can withstand successive 1 k strikes at 8 kV (IEC 61000-4-2). Low-profile single-chip solution, in 0402 case size, minimizes parasitic capacitance and signal distortion.
---
Original Press Release:

AVX Expands AntennaGuard Series with Development of Sub 1pf Multilayer Varistor



AVX offers the fastest EDS response multilayer varistor...

MYRTLE BEACH, S.C. (June 11, 2008) -- AVX Corporation, a leading manufacturer of advanced passive components and interconnect solutions, has expanded its AntennaGuard Series of low capacitance multilayer varistors (MLVs) to include a sub 1pf version. Designed to provide a one chip solution for protecting high speed digital interfaces, RF antenna and RF amplifier circuits against ESD events, the application specific, bi-directional transient voltage suppressor provides minimal signal distortion and low insertion loss. The low profile 0402 MLV features a fast response time to ESD and can withstand successive 1k strikes at 8kV (IEC 61000-4-2).

"The sub 1pf AntennaGuard offers our customers the fastest ESD response of any multilayer varistor on the market today,"
said Sonja Brown, global product manager for circuit protection products. "The MLV also minimizes the parasitic capacitance and the signal distortion, maximizing the signal strength and speed."

Initial offerings of the AntennaGuard sub 1pf include 0.8pf capacitance at 10V and 15V rating in 0402 case size.

The sub 1pf AntennaGuard is ideal for protecting high-speed data lines including, HDMI, FlexRay, RF circuits, analog sensors, GPS antenna, high speed digital.

AVX Corporation is a leading international supplier of electronic passive components and interconnect solutions with 22 manufacturing and customer support facilities in 14 countries around the world. AVX offers a broad range of devices including capacitors, resistors, filters, timing and circuit protection devices and connectors. The company is publicly traded on the New York Stock Exchange (NYSE:AVX).

For more information about the sub 1pf AntennaGuard, contact:
AVX at 801 17th Avenue South
Myrtle Beach, S.C. 29578
by calling 843-448-9411
by fax at 843-444-2864
or on the Web at www.avx.com.

For more information, contact:
Sonja Brown
Global Circuit Protection
Product Manager
843-946-0504
sbrown@avx.com

More from Communication Systems & Equipment