Multilayer Ceramic Chip Capacitors are rated for 25-1,000 V.
Press Release Summary: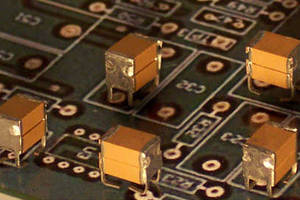 Available in EIA size codes 1812, 2220, 1825, and 2225, SMC and HSC series are available in J, L, and N leaded configurations for through hole or surface mount use. Capacitance ranges are from 470 nf to 35 µf in 125°C rating, while lead frame design protects against mechanical and thermal stresses. RoHS compliant units are suited for switch-mode power supply filters. Rated for 150, 200, and 250°C, HSC series also suits oil logging, engine controls, and jet engine applications.
---
Original Press Release:

New Holystone SMC Stacked Capacitors Boast High CV and Now Available in High Temperature Ratings



Lead Frame Design Protects Against Mechanical & Thermal Stresses

Holystone International, Murrieta, CA has announced the availability of the SMC series of Multilayer Ceramic Chip Capacitors and the new HSC series with higher temperature ratings of 150, 200, and 250°C. Particularly well suited for switch-mode power supply filters, the stacked design of the SMC and HSC series offers extremely high capacitance, and very low ESR, which exceeds the capabilities of wet tantalum designs.

The Holystone SMC and HSC series are now offered in multiple footprints; available in EIA size codes 1812, 2220, 1825 and 2225; all with lead frame stand-offs to prevent mechanical and thermal stress.

The SMC and HSC series targets power supply, DC-DC converter, industrial control, surge and snubber, as well as filtering, smoothing and decoupling applications. With the increased temperature range of the HSC series, oil logging, engine controls and jet engine applications are also covered.

Both series are available in J, L, and N leaded configurations for through hole or surface mount use. Capacitance ranges are from 470 nf to 35 µf in the 125°C rating, with rated voltages ranging from 25 - 1000V. 150°C and higher temperatures will have slightly lower nominal capacitance ratings. All are available with HIREL screening. The entire series is RoHS compliant.

The SMC and HSC series of multilayer ceramic stacked chip capacitors are available in 6 weeks for sample quantities, with production quantities in 6-8 weeks ARO. Pricing for a 2225 size capacitor with 2 stacked chips with10µf at 50V are being quoted at $ 1.75 each in a quantity of >1000 pieces.

For detailed data sheets, sample requests, specific price and availability quotations, or for further information on Holystone's comprehensive line of capacitor products, contact Holy Stone at:

Holy Stone International

26395 Jefferson Ave.,

Murrieta, CA 92563

Tel 951-696-4300

Fax 951-696-4301

Email: info@holystonecaps.com

Web: www.holystonecaps.com

Company Contacts:

Dan Jordan (U.S.)
at 716-307-8592
or by email at djordan@holystonecaps.com.

Clive Youngs (U.K.)
at +44-776-66826-139
or by email at cyoungs@holystonecaps.co.uk

More from Test & Measurement