Multilayer Ceramic Capacitors handle temperatures to 150°C.
Press Release Summary: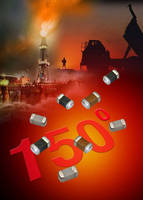 Suited for high temperature industrial and automotive applications, RoHS compliant X8L Series AEC-Q200-qualified MLCCs are available in 0805 package and deliver capacitance variation of ±15% between -55 to 125ºC and +15/-40% from 125 to 150ºC. Optional FLEXITERM® termination system prevents damage caused by thermal cycling. Conductive epoxy terminations for hybrid applications are also available.
---
Original Press Release:

AVX Expands Multilayer Ceramic Capacitor Series to Include High Temperature, High Capacitance Version



X8L Series MLCC ideal for high temperature industrial and automotive applications...

MYRTLE BEACH, S.C. - AVX Corporation, a leading manufacturer of advanced passive components and interconnect solutions, has expanded its offering of multilayer ceramic capacitors to provide high capacitance values at temperatures of up to 150ºC. Designated the X8L Series, the high temperature MLCC range has an elevated capacitance performance at a temperatures range to accommodate applications in harsh environments.

"Like the X8R Series, the new, high capacitance X8L MLCCs are AEC-Q200-qualified making them ideal for automotive applications including under the bonnet systems. In the industrial market, they can also be used as bulk capacitors for temperature sensing modules as well as control units," said Tim Piver, product marketing manager at AVX.

AVX's X8R Series and X8L Series MLCCs are RoHS-compliant and feature excellent low-loss performance and temperature stability. The X8R Series capacitors demonstrate a capacitance variation over temperature of ±15% between -55ºC and +150ºC, while X8L products have a variation of ±15% between -55º to 125ºC and +15/-40% from +125 to +150ºC. Absolute capacitance will vary with temperature, but as an example, at ambient (25ºC)

The new X8L capacitors deliver a CV of 0.47µF/25V in an 0805 package, a comparable X8R device is rated at 0.22µF/25V. The X8L Series also extends the voltage availability from 50V (X8R) to 100V.

Optional termination systems include AVX's patented FLEXITERM®, which ensures the reliability of the components by preventing damage caused by thermal cycling and mechanical flexing reliable. Conductive epoxy terminations for hybrid applications are also available.

Pricing set at competitive market levels with lead time of 14 weeks.

For more information, contact

AVX

801 17th Avenue South,

Myrtle Beach, S.C. 29578;

call: 843-448-9411;

fax: 843-444-2864;

Web: www.avx.com.

About AVX

AVX Corporation is a leading international supplier of electronic passive components and interconnect solutions with 24 manufacturing and customer support facilities in 15 countries around the world. AVX offers a broad range of devices including capacitors, resistors, filters, timing and circuit protection devices and connectors. The company is publicly traded on the New York Stock Exchange (NYSE:AVX).

For more information, contact:

Jiri Pernicky

Marketing Communications Manager

+420 724 158 435

pernickyj@avxeur.com

More from Controls & Controllers