Multihandler provides all-around visibility.
Press Release Summary: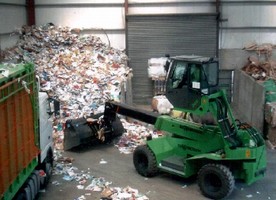 Measuring 15.7 x 8.2 x 8.1 ft, 305 Multihandler C Series features hydraulic hi-rise operator's cab with eye level of 13.3 ft and reaches lift height of 24 ft. Outfitted with 100 hp diesel engine, machine offers max load-bearing capacity of just over 11,000 lb. Optional 2-part XL telescopic boom provides extended reach and lift height of 30 ft. Designed with hydrostatic all-wheel drive, machine offers crab steering, all-wheel steering, and front-wheel steering.
---
Original Press Release:

The Newly Unveiled Sennebogen 305 Multihandler Hits New Heights



Charlotte, NC - Once again SENNEBOGEN raises the bar - and its cabs - with the North American introduction of the new green line 305 Multihandler C Series. The 305 Multihandler C Series is the world's first telehandler with a hydraulic hi-rise operator's cab with an eye level of 13.3 feet (4.0 meters) and being able to reach a lifting height of 24 feet (7.3 meters). This unique machine also offers a real maximum load-bearing capacity of just over 11,000 pounds (5 tonnes) and is outfitted with a 100 hp (75 kW) diesel engine.

The idea behind this groundbreaking engineering concept was to improve visibility while offering greater maneuverability all within SENNEBOGEN's signature compact, ergonomic design. "The timing is right for us and we are pleased to introduce the 305 Multihandler, which will literally take our customers to new heights," said Constantino Lannes, President of SENNEBOGEN North America. "Now that we have the dealers, the areas, along with the parts and service support we needed in place, we are thrilled to offer a machine like this in North America. We maintained our business philosophy that we would not be bringing products to market unless we were able to provide the level of support that our customers and dealers have come to expect."

The 305 Multihandler measures 15.7 feet long (4.8 meters), 8.2 feet high (2.5 meters) and 8.1 feet wide (2.48 meters). This gives the Multihandler the ability to work in areas and markets that previously SENNEBOGEN and its dealers would not have been able to enter.

The ability to raise and lower the cab offers operators less guesswork and more precision work - where they are going, what they are moving and where they are taking it. It gives them a whole new perspective while on the job. Equipped with all-round visibility, an ergonomically designed workstation, joystick control and an adjustable steering column makes it a great place to go to work.

This innovation in cab design parallels the hydraulic hi-rise cab available on SENNEBOGEN material handling machines. This feature is unique to SENNEBOGEN. "As always, we continue to strive towards offering the industry unparalleled machinery and engineering," said Lannes.

The 305 Multihandler comes with an optional two-part XL telescopic boom. This provides the operator with an extended reach and lift height of 30 feet (9 meters). Greater reach and loading ability allows means that the operator can access heights and dump materials that traditional telehandlers or forklifts cannot do.

The XL version means it is well suited for container loading as well as shoveling or lifting operations that require extra reach. The quick-change mechanism with extra-wide quick-change plate has a widened tip back angle of 45 degrees, offering optimal shovel control and a tip out angle from 34 degrees to 142 degrees. This ensures clean, fast and efficient tipping with minimal debris left in the bucket.

The innovation continues with this compact machine, which also offers optimized maneuverability. Designed with hydrostatic all wheel drive, the 305 Multihandler is equipped with three different steering systems including crab steering, all wheel steering and front wheel steering. This allows the outer tires to only reach a radius of 140 inches (3 560 mm) and the inner tires an extreme of 35 inches in (900 mm) radius. This makes for tighter turning capability allowing the operator to get in and out of tight spaces.

Day-to-day operations are made even easier thanks to a combined brake and inching pedal. This unit also come with a selective 100 per cent locking differential. This coupled with the efficient load sensing hydraulic system and the power-governed axial piston pump make operations a veritable breeze.

Just like some of the material handlers, the 305 Multihandler comes with a reversing fan to clean out the cooling system. This minimizes downtime and keeps the engine running at optimum operating temperature. Daily maintenance and fluid level checking are all at ground level. And once again, the user-friendly design and engineering make the 305 Multihandler a turnkey operation for any experienced operator.

All Industries. All the time.
For the ultimate in flexibility SENNEBOGEN has engineered a complete line of attachments making this machine, the Swiss Army Knife of Multihandlers. Some of these attachments include an orange peel, attachable forks, (also available with sideshift), timber grab, sweeper and various buckets with and without teeth and with or without grippers. Attachments take only minutes to change and the machine is ready to go on to the next job.

With versatility like this, the 305 Multihandler becomes an ideal machine for any material handling needs in scrap handling, waste transfer station and forestry industry applications. "Our dealers have had a number of inquiries from some of their customers who have seen the machine in Europe and are convinced that its built-in flexibility will be a great addition to their fleet," said Lannes.

SENNEBOGEN has been a leading name in the global material handling industry for more than 50 years. Based in Charlotte, North Carolina, SENNEBOGEN North America offers a complete range of purpose-built machines to suit virtually any heavy lift or "pick & carry" application. A growing network of distributors supports SENNEBOGEN sales and service across North America, ensuring the highest standard of professional machine support and parts availability.

For more information on the full line of SENNEBOGEN green line material handlers, contact:
Constantino Lannes, President
SENNEBOGEN LLC
2835 Jeff Adams Dr., Suite H, Charlotte, NC 28206
Call toll free 1-877-309-0099 or fax (704) 347-8894
Email - sales@senneboqen-na.com
Web site - senneboqen-na.com

More from Materials