Multifunctional Testers incorporate diverse capabilities.
Press Release Summary: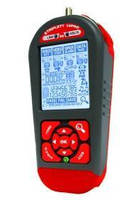 LVPRO Series includes 3 preloaded models: Model 20 – web upgradeable, 30, and 30SR. In addition to adjustable backlit display and capability to attach test modules to increase functionality, features include test procedures for Cable Map, Ethernet Switch Port Blink, Speaker Pop, Cable Length, PoE Volts, Battery Test, and 10/100/1000 indication. Functionality also lets user print results. LVPRO Model 30 and 30SR come with 10 RJ45 ID Remotes and 10 Coax ID Remotes.
---
Original Press Release:

New LVPRO Series



The NEW LVPRO Series of multifunctional testers are now available! These new units are offered in 3 preloaded models (Model 20 – web upgradeable, 30, 30SR). The new LVPRO series includes a new color scheme, adjustable backlit display and the capability to attach test modules to increase functionality. The NEW LVPRO's keep all the test procedures they are known for like, Cable Map, Ethernet Switch Port Blink, Speaker Pop, Cable Length, PoE Volts, Battery Test, 10/100/1000 indication & the ability to print results.



Click here to read about the first test module that will become available soon the Video Test Module!



The NEW LVPRO Model 30 & 30SR now come with 10 RJ45 ID Remotes & 10 Coax ID Remotes.



For More information please visit our webiste or contact sales@triplett.com.



Learn more at Triplett.com.



Low Voltage Pro

Model 20


| | |
| --- | --- |
| PN: | LVPRO20 |
| MSRP: | $249.97 |
| UPC: | 6 14395 00175 9 |



Low Voltage Pro

Model 30


| | |
| --- | --- |
| PN: | LVPRO30 |
| MSRP: | $449.97 |
| UPC: | 6 14395 00176 6 |



Low Voltage Pro

Model 30SR


| | |
| --- | --- |
| PN: | LVPRO30SR |
| MSRP: | $499.97 |
| UPC: | 6 14395 00177 3 |
Related