Multifunctional System calibrates, measures, analyzes torque.
Press Release Summary: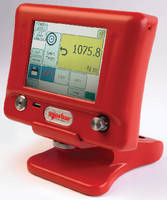 Powered by Torque Data Management System (TDMS) software, T-Box incorporates torque measurement, calibration, data archiving, and management capabilities. It analyzes torque tool performance/joint characteristics and supports connection of up to 4 SMART transducers. Set-up is accomplished through touch-screen prompts, and software can prompt return of tools at required re-calibration interval. Connectivity is fostered via 2 USB ports, one RS232 serial port, and ancillary connection.
---
Original Press Release:

New Torque Calbration, Measurement & Management System



Willoughby, OH - Norbar®, the world's leading manufacturer of torque tools, has launched a new torque measurement, calibration, data archiving and management system. The new hardware, named 'T-Box', is powered by Norbar's feature-ladenTorque Data Management System (TDMS) software.

This compact device incorporates a broad range of torque-related capabilities: The system calibrates torque wrenches, stall tools, pulse tools, hydraulic torque wrenches and clutch tools. It performs detailed analysis of torque tool performance and joint characteristics. The TDMS software even prompts the return of tools at their required re-calibration interval.

Set-up is accomplished through easy, intuitive, touch screen prompts. Up to four 'SMART' transducers, including those with an angle capability, may be connected to the device. Two USB ports, one RS232 serial port and an ancillary connection present a broad choice of interfaces. The system includes pre-loaded Norbar® 'tool templates', or offers an integral tool template creator for non-Norbar tools. The T-Box system is equipped with a large internal memory capacity for archiving of test, calibration and graphic results.

For further information, contact:
Norbar Torque Tools, Inc.
36400 Biltmore Place
Willoughby, OH 44094
PHONE: 866-667-2272
FAX: 440-953-9336
E-MAIL: sortolani@norbar.us

More from HVAC