Multifunctional CAN Bus Readers are J1939-compatible.
Press Release Summary: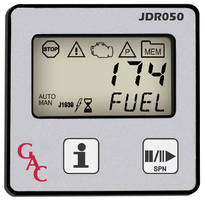 Operated via 2 buttons, JDR050 lets users read standard active and stored J1939 diagnostic trouble codes for up to 10 J1939-compatible engine control units. Model JDR100, operated via 3 buttons, incorporates all functionality of JDR050 and also displays live engine parameters. Along with J1939 text translator for toggling J1939 text and code, both universal diagnostic instruments have built-in CAN bus 120U termination resistors and require no software for configuration.
---
Original Press Release:

GAC Adds Two New J1939 Compatible CAN bus Reader



Governors America Corp., (GAC) Agawam, MA., has introduced the JDR050, a CAN bus reader that allows users to read standard J1939 diagnostic trouble codes (DTCs) in engines equipped with J1939 compatible engine control units (ECUs). The JDR050 reader displays active and stored DTC codes for up to 10 ECUs and is fully operational through two buttons. GAC has also introduced the JDR100, a multifunctional tool, fully operational through three buttons, that incorporates all of the functionality of the JDR050, as well as, displays live engine parameters (RPM, Oil Pressure, Coolant Temperature, Battery Voltage, Engine Run Hours, and if available, Fuel Level). Because the JDRs are multifunctional universal diagnostic code readers, their applications are not limited to any particular engine manufacturer or engine size. They are easily installed, which makes it ideal for aftermarket prospects, and are extremely rugged so harsh applications are never an issue.

JDR050 JDR100
The JDR050 and JDR100 have built in CAN bus 120U termination resistors and require no software for configuration, GAC said. Both readers support J1939 stop, warning, malfunction and protection status messages' using independent indicators controlled by the ECU and are equipped with indicators for mode, busy and communication. The JDR100 displays live engine parameters and has its own internal memory to maintain engine run hours. Both units are equipped with a J1939 text translator feature for toggling viewing between J1939 text and code.

J1939 DTCs are divided into two categories, active and stored. Active codes are present during the condition while stored codes record an instance that has occurred. Indicators are present for the suspect parameter number (an engine parameter that is out of range such as oil pressure, coolant temperature), failure mode indicator (what failure was detected), occurrence count (the number of times the failure has occurred) and the source address (the CAN address of the device reporting the fault). A MEM annunciator illuminates when stored codes are present.

Both readers have a three-line LCD display that shows fault codes and operating functions, using one button to manually scroll through the suspect parameter numbers, failure mode indicators and occurrence counts of the DTC. A second button disables the auto scrolling and single steps through the display of suspect parameter numbers. The JDR100 has an additional third button that is used to switch the unit between the display of DTCs transmitted by the ECU and the display of live engine parameter.

The JDRs are equipped with a large, ultra-bright monochrome backlit LCD segmented display for greater visibility. Buttons on the JDR display, GAC said, have been designed large enough to access with heavy gloves on. The construction of the controller incorporates a sealed polycarbonate case and non-fogging display. It is IP67 front resist and IP69K rear resist and has an operating voltage of 8 to 32 Vdc.

A lower power draw of 0.25 Amp at 12 V has also been incorporated into the controller's design, allowing it to be connected to the battery or the ignition for power. Operating temperature for the unit is -40 to 185oF.

While the JDR controller is self configurable without software, it can be manually configured by entering into the user configuration mode. Configurable parameters include ECU CAN address, JDR CAN address, display rate, time in seconds to return to auto mode, maximum DTCs, English text scroll rate and J1939 conversion method for use with older engines. The JDR100 has more configurable options that include:, select the function to display on power up (Engine Parameters or DTCs) and the order of the displayed engine parameters.

Dimensions for the JDR050 are 2.75 in. long by 2.75 in. wide by 2.127 in. deep, allowing for mounting within a 2 in. standard opening. The reader can be battery or ignition powered, GAC said, and is installed using two 6-pin Deutsch DT compatible connectors. A simple slide latch mounting ring locks the controller into place, eliminating the need for tools to install the system.

GAC Key Account Sales Manager Les Casterline states that this product was first conceived some time ago with the input of a major diesel engine manufacturer in order to aid their OEM customers to their meet requirements for engine servicing. At the time, there was limited availability of such a device and at a higher than acceptable market cost. This is an excellent engine service tool to aid the end user and his service agent to diagnose and correct an abnormal engine condition. Casterline noted that the JDR050 will display all common J1939 codes as well as those codes unique to each engine manufacturer. After successful testing several OEMs including Denyo Manufacturing have begun to use the JDR050 in their product lines. Denyo is using this in replacement for a more complex device.

GAC is marketing both the JDR050 and the JDR100 controllers as cost effective products that have been engineered for easier use. The JDR Series is produced at GAC's Agawam, MA headquarters where it also produces a full range of engine control systems and actuator products.

More from Electrical Equipment & Systems