Multifunction DAQ Cards come in PCI and PXI form factors.
Press Release Summary: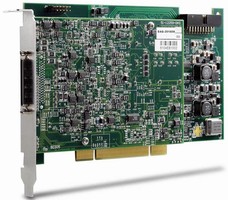 Suited for large-scale data collection and industrial automation, 4-channel models DAQ-2016 and PXI-2016 offer max transfer rate of 800 kS/s per channel and 16-bit resolution. Cards can synchronize multiple external devices using System Synchronization Interface or PXI trigger bus to support channel count expansion. Along with multi-channel simultaneous sampling capabilities, products offer two 12-bit, 1 MS/s analog output, 24-channel programmable DIO, and two 16-bit timers/counters.
---
Original Press Release:

New High-Sampling PCI and PXI Data Acquisition Cards for Higher Throughput per Channel



Irvine, CA (February 1, 2007) - ADLINK Technology releases a high-sampling, multi-function data acquisition card in both PCI and PXI form factors. The DAQ-2016 and PXI-2016 feature a maximum transfer rate of 800kS/s per channel. It is designed for large-scale data collection and industrial automation.

The four-channel DAQ-2016 and PXI-2016 offer a 16-bit resolution and a variety of analog and digital trigger sources and modes for multi-channel simultaneous sampling efficiency. With an excellent sampling rate and resolution, the cards are suitable for a wide range of applications including industrial and laboratory automation, ultrasounds, acoustics and biomedical research.

To support channel count expansion using an external clock, the DAQ-2016 and PXI-2016 cards can synchronize multiple external devices using a System Synchronization Interface or a PXI trigger bus.

"The DAQ-2016 and PXI-2016 cards represent ADLINK's versatility in providing its customers with high-performance and cost-effective data sampling solutions on both PCI and PXI platforms," said ADLINK President Jim Liu.

The DAQ-2016 and PXI-2016 cards deliver two 12-bit, 1MS/s analog output, 24-channel programmable DIO and two 16-bit timers/counters that provide flexibility for multi-tasking situations.

The DAQ-2016 and PXI-2016 cards come with a powerful WDM driver for C/C++, VB, Delphi, C++ Builder and .NET programming languages and full device drivers for MATLAM® and LabVIEW®.

*All other products and company names appearing herein are trademarks or trade names of their respective companies. LabVIEW is a trademark of National Instruments Corporation.

Pricing & Availability

The DAQ-2016 and PXI-2016 are competitively priced starting at $1495 and $1695, respectively, and are available with discounts in volume.

About ADLINK Technology

ADLINK Technology is a leading manufacturer of high-performance, high-quality PC-based add-on cards for the test & measurement, automation and process control industries. ADLINK is also quickly emerging as a leader in industrial computing products with innovative passive backplane and CompactPCI platforms. ADLINK products are globally marketed through direct sales offices for OEM customers and an extensive network of worldwide sales channels.

The company has over 30% of its employees in research and development for the following product groups:

o Test & Measurement: NuDAQ Series of ISA/PCI/cPCI/USB data acquisition and communication cards, NuDAM Series of remote data acquisition modules and DAQBench Active X Controls for visual programming and control.

o Automation: Motion controllers in cPCI/PCI/PC104 form factors and wire-saving high-speed I/O technology for real-time control applications.

o Computer & Communication: CompactPCI and PXI computing platforms in both 3U and 6U form factors and PCI-X of PICMG single board computers in half and full-size versions

More from Explosives, Armaments, and Weaponry