Multiformat Test Set includes Bluetooth EDR.
Press Release Summary: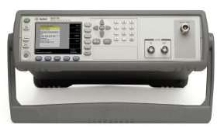 Wireless connectivity test set, Model N4010A, with Bluetooth(TM) Enhanced Data Rate Option 105, allows engineers to test Bluetooth connectivity during development, integration, and manufacturing of chipsets, modules, and devices. Key transmitter measurements include carrier frequency stability, modulation accuracy, and relative transmitter power. Receiver measurements include EDR sensitivity, EDR BER floor performance, and EDR maximum input level.
---
Original Press Release:

Agilent Technologies Offers Industry's First Multiformat Test Set to Include Bluetooth EDR


New option enables accurate test of Bluetooth EDR chipsets, modules and devices

PALO ALTO, Calif., May 16, 2005
Agilent Technologies Inc. (NYSE: A) today introduced a Bluetooth(tm) Enhanced Data Rate (EDR) option for the Agilent N4010A wireless connectivity test set. Using the test set's new Option 105, engineers can now test Bluetooth EDR connectivity during the development, integration and manufacturing of chipsets, modules and devices. The addition of a Bluetooth EDR capability builds on Agilent's commitment to keep introducing emerging communications technologies on the N4010A.

When configured, Agilent's N4010A wireless connectivity test set provides accurate and effective testing of Bluetooth EDR radio transmitter mode and receiver mode. The options required include Bluetooth Option 101 and the product announced today, the EDR Option 105. Key transmitter measurements include carrier frequency stability, modulation accuracy and relative transmitter power. Receiver measurements include EDR sensitivity, EDR BER floor performance and EDR maximum input level. These transmitter and receiver measurements enable the early characterization of emerging EDR designs.

"Adding these Bluetooth EDR measurements to Agilent's one-box test set helps reduce the capital expenditure of our wireless connectivity customers," said Pat Byrne, president of Agilent's Electronic Products and Solutions Group. "We look forward to providing additional test capabilities, such as full loopback, to further help Bluetooth EDR designers."

The Agilent N4010A, the industry's first one-box test set that measures WLAN 802.11a/b/g, Bluetooth and Bluetooth EDR modules from a single platform, continues to provide measurements for an increasing number of wireless networking standards. The test set supports all chipset manufacturers and provides simpler system integration, improved RF performance and faster, more accurate measurements. These capabilities combined with the test set's low price significantly reduce the cost of testing WLAN, Bluetooth and Bluetooth EDR modules.

Further Information
Additional information about these products is available at www.agilent.com/find/N4010A. Images are available at www.agilent.com/find/Wicon-BluetoothEDR.

Pricing and Availability
To complement the N4010A wireless connectivity test set, Agilent also offers a flexible, PC-based software application, the Agilent N4017A. This product provides graphical analysis of Bluetooth devices and Bluetooth signal generation.

The new Bluetooth EDR N4010A Option 105 and N4017A Option 205 are expected to be available July 1, 2005. The N4010A and N4017A are available now. Agilent's EDR solution will range from $30,000 to $35,000.

N4010A Wireless connectivity test set
Option 105 Bluetooth EDR option
Option 101 Bluetooth option
Option 110 I/O output
Option 111 Audio option
N4017A BT graphical measurement application
Option 205 Bluetooth EDR option

About Agilent Technologies
Agilent Technologies Inc. (NYSE: A) is a global technology leader in communications, electronics, life sciences and chemical analysis. The company's 28,000 employees serve customers in more than 110 countries. Agilent had net revenue of $7.2 billion in fiscal year 2004. Information about Agilent is available on the Web at www.agilent.com.

Bluetooth is a trademark owned by Bluetooth SIG, Inc., U.S.A, and licensed to Agilent Technologies Inc.

Contact:
Janet Smith
+1 970 679 5397
janet_smith@agilent.com

More from Electrical Equipment & Systems