Multi-Turn Absolute Encoder features electronic reset.
Press Release Summary: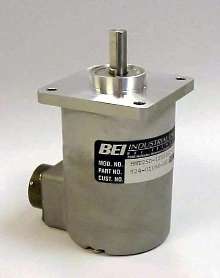 Model HMT25 includes electronic reset, which can use system software for initialization. Sending timed pulse through reset pin, encoder value gets set to zero through non-volatile internal memory. Since encoder uses geared multi-turn code wheel system instead of battery-dependant electronic turns counter, physical position at any time is precisely determined, even in prolonged power down situations.
---
Original Press Release:

Multi-Turn Encoder Features Electronic Reset


Goleta, CA. -- BEI introduces a multi-turn absolute encoder, the HMT25, with electronic reset capability. Unlike manual resets (buttons or switches) an electronic reset can use system software for initialization. This greatly improves machine set-up time, especially in systems with space constraints. Sending a timed pulse through the reset pin, the encoder value gets set to "zero" through a non-volatile internal memory. Since the encoder uses a geared multi-turn code wheel system, instead of a battery-dependant electronic turns counter, the physical position at any time is precisely determined even in prolonged power down situations.

Web Link: www.beiied.com/PDFs2/HMT25_Absolute_Encoder.pdf

BEI Industrial Encoder Division is an operating division of BEI Technologies, Inc. (NASDAQ: BEIQ). BEI is an established manufacturer of electronic sensors and motion control products used for factory and office automation, medical and scientific equipment, military, aviation and space systems, and transportation equipment including automobiles, trucks and off-road equipment. The company's product portfolio includes position sensors, rotary optical encoders, linear encoders and associated Digital Readout (DRO) systems, voice coil actuators, brushless DC motors, servo systems, quartz microelectromechanical (MEMS) rotation rate sensors and navigation subsystems.

For more information on any of BEI's industrial encoders, contact
Mr. Scott Orlosky
Marketing Manager
Industrial Encoder Division
BEI Technologies
7230 Hollister Ave.
Goleta, CA 93117-2891
PH: 800-350-2727 or 805-968-0782
FX: 805-968-3154
e-mail: sorlosky@beiied.com
web: www.beiied.com

More from Laboratory and Research Supplies and Equipment