Multi-Touch Controller supports 256 touch detecting channels.
Press Release Summary: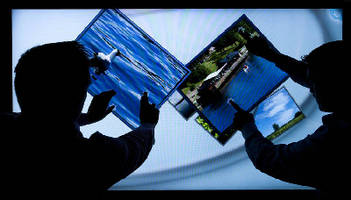 Developed for use with touchscreens that have diagonals greater than 55 in., Model ZXY300 is based on 32-bit ARM Cortex microprocessor core containing Zytronic's touch detection and processing firmware. Controller can support up to 40 simultaneous touch points being resolved with touch separation of <10 mm between each point. Running off standard 12 V supply, 219 x 92 mm controller connects with projected capacitive touch sensor via several flex tails or FPCBs.
---
Original Press Release:

Zytronic Unveils Cutting-Edge Multi-Touch Controller



Designed to provide minimum touch separation on ultra-large p-cap touchscreens



Zytronic has announced the launch of its latest touch controller to complement the company's portfolio of rugged, ultra-large format, multi-touch touch sensors based on its proprietary MPCT™ projected capacitive (p-cap) technology. The ZXY300 has been developed for use with touchscreens that have diagonals greater than 55-inches, enabling far better touch point resolution to be achieved whilst maintaining millisecond level response speeds. Running off a standard 12V supply, this compact (219mm x 92mm footprint) controller connects with the p-cap touch sensor via several flex tails or FPCBs. The ZXY300 has at its heart a 32-bit ARM Cortex microprocessor core containing Zytronic's specially developed touch detection and processing firmware.



The advanced touch detection algorithms within the ZXY300's firmware double the number of touch detecting channels that can be supported to 256, compared with 128 for the standard ZXY200 multi-touch controller (mainly aimed at smaller screens). As a result the capacitive sensing matrix within the touch sensor can be much denser, which in turn makes it possible to determine the positions of individual simultaneous touch events to far greater precision, even on the largest MPCT-based touchscreens of 84-inches.



Across the complete range of MPCT sensor sizes currently available, the ZXY300 has the capacity to support up to 40 simultaneous touch points being resolved with touch separation of <10mm between each point (i.e. less than the width of a fingertip). Furthermore, thanks to the firmware specifically developed for the ZXY300, the additional data that needs to be captured to achieve this level of performance can still be gathered, processed and output to the host PC in less than 10milliseconds.



Used in conjunction with MPCT multi-touch sensors, the ZXY300 is suited to a variety of applications where multi-touch precision is of prime importance, even on the largest displays. These include multi-player casino gaming tables, the latest interactive exhibits in museums, multi-user design/architectural workstations, cataloguing and EPOS tables in retail outlets, car showrooms and bank branches, as well as command/control systems in utility companies, petrochemical facilities and military headquarters.



This controller is both FCC and CE approved. An operational temperature range covering -40°C to +85°C allows it to be used for touchscreen deployments in harsh environments. It has 'native' plug-and-play support for the Windows 7 and Windows 8 operating systems, as well as latest Linux variants (kernel version >= 3.5.1), and in order to boost Linux touchscreen performance, Zytronic offers additional driver source code/tools that can be used to provide touch calibration. The company also provides a free ZyConfigTM software utility – for basic users this provides a simple set-up of the integrated multi-touch screen in a matter of minutes but also gives more advanced users direct access to the ZXY300 controller configuration for fine tuning.



"One of the key aims for Zytronic is to introduce sophisticated technology that is intuitive to use and will assist in the creation of outstanding touch-enabled systems and lead to enriched user experiences. Thanks to our strong engineering team, we plan to continuously innovate and improve the touch controllers supporting our range of PCT™ and MPCT™ products," remarks Ian Crosby, Sales & Marketing Director at Zytronic. "Through these solutions operational effectiveness can be significantly improved and the scope of activities that can be undertaken expanded. The heightened resolution delivered by the ZXY300 will prove of major benefit to a broad selection of applications using large format, multi-touch screens. Anywhere that will need the annotating, sharing or presenting of information, or moving assets around, is likely to gain from this innovation."



About Zytronic

Zytronic is the developer and manufacturer of a unique range of internationally award-winning touch sensor products. These products employ an embedded sensing element and are based around projected capacitive technology (PCT™) sensing. PCT offers significant durability, environmental stability and optical enhancement benefits to system designers of touch interactive, industrial, self - service and public access equipment. During 2012, Zytronic developed new know-how to create mutual projected capacitive technology (MPCT™), which enables multi-user and multi touch sensing in ultra large form factor sizes up to 84".



Zytronic products are used in electronic displays for self service and information systems, ATMs and gaming machines, as well as by military, computer, telecommunications and medical OEMs, and are available from its network of worldwide distributors. The company has its headquarters and state-of-the-art manufacturing facilities in Blaydon, Tyne & Wear in the UK.  In addition to ISO-approved manufacturing, these facilities are home to Zytronic's team of lamination, material science and electronics specialists who are responsible for ongoing product development in composite technology.



For more company information, visit Zytronic's web site at www.zytronic.co.uk or find us on



Contact details for editorial enquiries:

Sheila Dean, Zytronic

Whiteley Road, Blaydon on Tyne, Tyne & Wear, NE21 5NJ, UK

Tel: +44 (0) 191 414 5511          

Fax: +44 (0) 191 414 0545

Email:

[email protected]





Contact details for sales enquiries and regional representatives:

Asia - http://www.zytronic.co.uk/how-to-buy/sales-channel-partners/asia-pacific/

Americas - http://www.zytronic.co.uk/how-to-buy/sales-channel-partners/americas/

EMEA - http://www.zytronic.co.uk/how-to-buy/sales-channel-partners/europe-middle-east-and-africa/