Multi Terrain Loader suits construction and landscaping.
Press Release Summary: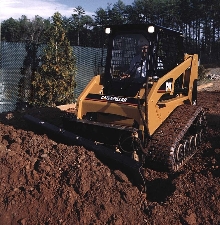 Multi Terrain Loader series includes models 247 and 257 rubber-tracked machines. Series offers suspended undercarriage that allows operation over various terrain conditions. Series works productively on sensitive surfaces without causing damage. Model 247 has operating capacity of 1,354 lbs, operating weight of 6,665 lbs, and ground pressure of 3.8 psi. Model 257 has 1,614 lb operating capacity, 7,628 lb operating weight, and 4.3 psi ground pressure.
---
Original Press Release:
New Caterpillar® 247 and 257 Multi Terrain Loaders Offer Exceptional Flotation, Traction, Stability & Versatility

Caterpillar introduces the 247 and 257 Multi Terrain Loaders, two compact rubber-tracked machines, designed for use in construction, landscaping, agriculture and other applications. Both models feature a new suspended undercarriage that allows the machines to work in a broad range of applications and terrain conditions. With their high traction, excellent flotation and low ground pressure, the 247 and 257 are ideally suited to jobs involving soft underfoot and sloped terrain. They also work productively on sensitive surfaces, such as turf, without causing damage.

The 247 combines the upper portion of the Cat® 226 Skid Steer Loader with a newly-designed rubber-track undercarriage from ASV Inc., a Caterpillar affiliate. It has an operating capacity (defined by SAE as 35 percent of tipping load) of 1,354 pounds (614 kg). Its operating weight is 6,665 pounds (3023 kg), yet ground pressure is 3.8 psi (26 kPa).

The 257, built from a Cat 242 Skid Steer Loader and the new ASV undercarriage, has an operating capacity of 1,614 pounds (732 kg), an operating weight of 7,628 lb (3460 kg) and 4.3 psi (30 kPa) of ground pressure.

Productive and versatile

A naturally-aspirated Cat 3034 diesel engine powers both machines. The 247 delivers 54 net horsepower (40.3 kW), while the larger 257 is rated at 59 net horsepower (44 kW). Each has a closed-loop, high-output hydrostatic drive system with an anti-stall system.

An integral, mechanical quick coupler is standard on each machine. Cat Work Tools incorporate an interface that matches the coupler, so tool changes can be completed quickly and easily. Many Cat Work Tools for skid steer loaders are also compatible with the 247, 257 and other Caterpillar Multi Terrain Loaders.

When jobs require extra lift or reach, the 257, with its standard vertical lift linkage, is a good choice. Two additional links per side allow the loader arms to move forward during the lift cycle, providing 55 percent more reach when fully raised than a conventional linkage. The vertical lift linkage design offers good visibility to the work tool and protection for hydraulic cylinders and lines.

Easy to operate and service

The ergonomic cab on each new loader offers easy entry and exit and excellent visibility to the work area. Joystick controls are pilot operated to allow precise, low-effort movement of machine and work tools. Hand and foot throttles enable the operator to use controls that suit the task and help maximize fuel efficiency.

To enhance serviceability, the rear engine compartment door opens 90° for easy access to both sides of the radiator. The radiator, hydraulic oil cooler and grill tilt up to improve access to the cooling system, and the cab tilts back to reveal hydraulic components and the fuel tank. Maintenance points are grouped in easy-to-reach locations, 500-hour engine oil change intervals increase uptime and Scheduled Oil Sampling valves are included on both models to speed the sampling process.

Excellent flotation, minimum compaction, smooth ride

Both machines have a new rubber-track undercarriage that transfers weight to the ground through 24 wheeled contact points. Weight is distributed evenly, improving traction and stability, reducing ground pressure and minimizing compaction. The rugged rubber track is lightweight and pliable, yet reinforced with high-tensile strength cords for extra durability. Its edges are beveled to prevent scuffing or damage when maneuvering on sensitive surfaces such as lawns, turf or landscapes. No steel is used in the track to eliminate corrosion.

Each track is 15 inches (381 mm) wide, and track on the ground is 59 inches (1499 mm). The total ground contact area for each machine is 1770 square inches (1.14 square meters) which results in an overall ground pressure that is less than an average person on foot. That makes these machines excellent in wet and soft underfoot conditions where a wheeled machine could not work.

An elevated positive drive system keeps drive components away from ground debris, improving service life. The sprocket is fitted with replaceable roller sleeves that mesh with rubber lugs inside the track for smoother operation. Track lugs travel on the outer edge of the roller wheels to ensure proper tracking. A heavy-duty suspension system minimizes shocks to the operator, improving load retention and ride comfort.

For more information about the 247 and 257 Multi Terrain Loaders, customers should contact their local Caterpillar dealer or visit the Cat web site at www.cat.com.




                               Basic Specifications

                                     247             257




Engine:                       Cat 3034            Cat 3034




Net power:                    54 hp (40.3 kW)     59 hp (44 kW)




Rated operating capacities:

 35% tipping load             1,354 lb (614 kg)   1,614 lb (732 kg)

 50% tipping load             1,933 lb (877 kg)   2,306 lb (1046 kg)




Operating weight:             6,665 lb (3023 kg)  7,628 lb (3460 kg)




Ground pressure:              3.8 psi (26 kPa)    4.3 psi (30 kPa)




Ground contact area:          1,770 in² (1.14 m²) 1,770 in² (1.14 m²)




Overall width:                66 in. (1676 mm)    66 in. (1676 mm)




Length, rear to coupler face: 99 in. (2518 mm)    106 in. (2701 mm)




Hydraulic pump capacity:      14 gpm (54.3 L/min) 22 gpm (83 L/min)




Breakout force:

 Lift cylinder                3,011 lb (1366 kg)  3,490 lb ft (1583 kg)

 Tilt cylinder                3,536 lb (1604 kg)  3,532 lb fit (1602 kg)




Dump clearance                84 in(2134 mm)      90 in. (2278 mm)


More from Test & Measurement