Multi-Tasking Turning Center offers spindle speeds to 5,000 rpm.
Press Release Summary: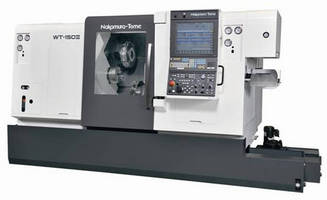 Utilizing opposed twin-spindle, 2-turret construction, 8-axis Nakamura-Tome WT-150 II occupies 67.8 x 67.8 x 6.2 ft and facilitates operation via 19 in. touchscreen LCD. FANUC 31i-B CNC control and PC-based control (NT-IPS) accelerate processing, while max tool swing of 23 in. on upper and lower turrets lets users drill through 2 in. dia bar from one side. Other features include 31.5 in. distance between spindles, 787 ipm rapid traverse on X-axis, and 314 ipm cutting feeds on X/Z/B axes.
---
Original Press Release:

Methods Introduces Nakamura Wt-150 II High-Speed, Multitasking Turning Center



SUDBURY, MA. U.S.A. - Today, Methods Machine Tools, Inc., a leading supplier of innovative precision machine tools, has introduced the Nakamura-Tome WT-150 II 8-Axis, Multitasking Turning Center. The WT-150 II, which features numerous upgrades from the base WT-150 design, has opposed twin-spindle, 2-turret construction, offering high-speed and high rigidity in a compact machine. www.methodsmachine.com/machines/region/21/products/5/19 The new WT-150 II will make its U.S. debut at imX in Las Vegas, September 12-14, 2011. www.methodsmachine.com/imx/

"With the introduction of the WT-150 II, we are able to offer simplified operations and greater efficiency and speed on a powerful multitasking Nakamura machine", said Mr. Richard Parenteau, Director of Application Development at Methods Machine Tools, Inc.

For ease-of-operation, the WT-150 II features a 19" high-resolution, touch screen LCD panel. A FANUC 31i-B CNC control and a PC-based control (NT-IPS) provides a high-speed programmable machine controller for faster processing and several features for increased efficiency and maintainability. New standard functions include a spindle speed override switch, a program number search, C-axis synchronization and helical interpolation (for Y-axis models).

In addition, the distance between the spindles has been increased to 31.5" (800mm) while still providing the same compact machine footprint of 67.8 ft² x 6.2 ft (6.3m² x 1.9m). Also, with a maximum tool swing of 23" (570mm) on the upper and lower turrets, users can drill through a 2" (51mm) bar diameter from one side on the Nakamura WT-150 II.

The spindle motor features increased torque for greater speed, and the S3 rate is now available for high torque. Faster feed is provided via a rapid traverse of 787 ipm on the X-axis, and cutting feeds of 314 ipm on the X, Z, and B axes.

With simultaneous 4+4 axis control, the WT-150 II offers 8-axis machining capability. The system includes 12 station upper and lower turrets with a half-index capability, to hold a total of 48 tools for multiple processes. A left and right spindle with speeds up to 5,000 RPM at 20 / 15 HP, and a 6 inch (150 mm) chuck and 2 inch (51 mm) bar capacity are provided. The WT-150 II is capable of 7.5 HP milling capacity on the C-axis.

The WT-150 II features the latest Nakamura cover design with a large window, LED work light for maximum visibility and a lightweight door with maintenance equipment conveniently available in an arrangement at the front of the machine. CAMplete TruePath Turn / Mill software is standard on Nakamura-Tome Multitasking Turning Centers. CAMplete Turn / Mill software is an integrated suite of G-Code editing, optimization, analysis and verification tools, enabling a full range of turn/ mill functions.

Methods Machine Tools, Inc. has been a leading supplier of precision machine tools, automation and accessories for over 50 years, providing installation, parts, service, and training through a network of dealers throughout North America. Methods Machine Tools Inc. is the exclusive U.S. and Mexico importer of Nakamura-Tome machines.

For more information, please contact Methods at 65 Union Avenue, Sudbury, MA 01776, TEL: (978) 443-5388, FAX: (978) 440-9405, Email: sales@methodsmachine.com or visit their website at www.methodsmachine.com

More from Machinery & Machining Tools