Multi-Tasking Floor Machine operates from 200-300 rpm.
Press Release Summary: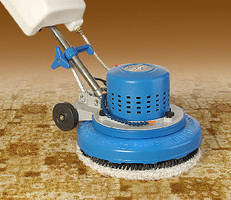 Designed with removable handle to facilitate transport, 2-speed Rabbit 3 can spray buff vinyl floors and clean baseboards or grout. Multi-tasking machine is available with Smart Weights accessory, each which weigh 40 lb and are designed to add weight and pressure to accelerate floor stripping time. Consisting of 17 in. diameter drive block, Scrub Jay accessory can clean 4 in. high baseboards. Baseboards up to 8 in. tall can be cleaned by adding multiple Scrub Jays.
---
Original Press Release:

New Rabbit 3 from Centaur Floor Machines Means More Profit and Less Work



Markham, Ontario, Canada...Centaur Floor Machines, LTD., a manufacturer of high quality floor machines and accessories, introduces the Rabbit 3. This floor machine, the flagship model from Centaur, is a 2-speed (200-300 RPM) multi-tasking machine that can spray buff vinyl floors, clean baseboards or grout, and can be easily moved from location to location thanks to its removable handle.

The key to Rabbit 3's success is a pair of unique accessories that expand the capabilities of the machine; the Smart Weight and the Scrub Jay.

Smart Weights (sold separately) can be added to the Rabbit 3 to make stripping floors much quicker. When there is a tough stripping job, the operator needs to apply a lot of downward pressure. By simply adding one or two Smart Weights to the Rabbit 3, the needed weight and pressure is applied. FAST floor stripping is accomplished quickly and safely. Using one Smart Weight can reduce the time it takes to finish the job by a third. Using a second Smart Weight halves the time required to get the job done. Each Smart Weight weighs 40 pounds.

The Scrub Jay accessory (sold separately) makes cleaning baseboards easier than ever before. The Scrub Jay is a 17-inch diameter drive block that can clean 4-inch high baseboards. A person cleaning baseboards by hand can take up to an hour. Performing the same job with the Scrub Jay can take as little as five minutes. Adding multiple Scrub Jays, one on top of another, allows for cleaning baseboards up to 8 inches tall.

The Rabbit 3, together with Smart Weights and the Scrub Jay, saves time and a considerable amount of money. To learn more, visit www.centaurmachines.com.


More from Test & Measurement