Multi-Surface ID/OD Grinder delivers flexibility via modularity.
Press Release Summary: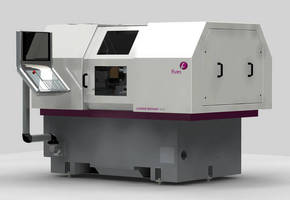 Landis-Bryant RU2 Fuel MGMT grinder, configured as chucker, shoe centerless, or center-type system, offers flexibility to grind complex fuel system components up to 14 in. dia and 7 in. long. Offering tight control over related features during grinding operations through single handling, machine employs dual-slide arrangement in Z that accommodates up to 6 grinding spindles. Multi-slide possibilities are offered via both X and Z axes with multiple work heads, wheel heads, and dressing systems.
---
Original Press Release:

Fives Debuts Landis-Bryant ID/OD Grinder at IMTS 2016



Fives will debut its Landis-Bryant RU2 Fuel MGMT grinder at IMTS 2016 (Booth N-7018). This high-precision grinding technology incorporates a modular multi-surface grinder with extended flexibility to grind most complex components for fuel systems, valve and drive trains, bearings, aerospace and medical applications.



High-precision grinding technology with flexible configurations

The Landis-Bryant RU2 Fuel MGMT grinder was specifically designed for the challenging requirements of fuel system components that require tight control over related features during grinding operations through a single handling. It employs a dual-slide arrangement in Z that can accommodate up to 6 grinding spindles. The Fives booth at IMTS (N-7018), will demonstrate the 4-spindle model with a coolant through 90,000 rpm, ID spindle and multiple dressing options.



Landis-Bryant RU2 grinders offer multi-slide possibilities in both the X and Z axis with multiple work heads, wheel heads, and dressing systems that make the machine ideal for process operations such as bore, seat, and face. Its granite epoxy bed includes a thermal stability system to monitor the temperature, and together with the optional adaptive thermal compensation, provides ultimate thermal stability. A stiff hydrostatic round-bar guideway system enables precise location of all axes resulting in ultimate dimensional and geometric accuracy, due to high-resolution Heidenhain glass scales and Fanuc linear motors. Modular design enables flexibility and allows customers to choose from multiple sizes, a tremendous range of machine configurations of work spindles, grinding spindles, dressing spindles, slides, tooling and fixtures and the ability to handle parts up to 14 in (350 mm) in diameter and 7 in (177 mm) in length. The Landis-Bryant RU2 grinders can be configured as chucker, shoe centerless and center-type systems.



A complete offer of ID/OD grinders combining Landis and Bryant Grinders' expertise

"We acquired Bryant Grinders in 2015 to extend our expertise in the design and manufacture of high-precision/high-production inner-outer diameter grinders," said Dwight Myers, CEO of Fives Landis Corp. "The acquisition broadened Fives' Grinding | Ultra Precision portfolio in the bearing, drive train, fuel systems, medical and valve train industries, and provides a full range of aftermarket services to the installed base of Bryant grinding machines including parts, field service, machine remanufacture and control retrofits."



Other grinders in the Landis-Bryant lineup include the Landis-Bryant RU1, UL2, UF2 and Landis-Bryant Spindles. The Landis-Bryant RU1 is a single-spindle machine for small precision part processing such as bearings, fuel systems, valve train, optical and medical applications. The Landis-Bryant UL2 is best suited for high production / high precision grinding bores and faces in bearing rings, universal joint cups, valve lifters and gears, while the Landis-Bryant UF2 is engineered for high production / high precision grinding of external diameters, faces, and forms.



A complete line of precision spindles with infinitely variable speeds up to 120,000 RPM

Landis-Bryant spindles contain super-precision bearings that permit operation at extremely high speeds, and are powered by in-house-designed induction motors to provide superior performance for efficient machining. Spindles are standard on new machines, specified for rebuilds and available for any other equipment that requires precision spindles.



For additional information, see: www.grinding.fivesgroup.com

More from Machinery & Machining Tools