Multi-Step Stripping Machine offers semi-automatic operation.
Press Release Summary: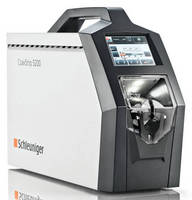 Employing rotary stripping and cutting concept, CoaxStrip 5200 has color touchscreen and works with coaxial, multi-conductor cable and single-conductor wire. Universally designed blades, centralizers, and clamping jaws enable processing of full range of cables without requiring mechanical adjustments, and machine design facilitates access to LED-lit working area. Menu-driven data input system allows cable programs to be created, saved, and recalled for consistent, repeatable results.
---
Original Press Release:

Schleuniger, Inc. to Showcase Coaxial Cable Stripping Solutions at International Microwave Symposium



Schleuniger, Inc., a leading international manufacturer of high-precision wire processing machines, will exhibit equipment from its line of coaxial cable stripping machines at the 2013 International Microwave Symposium. This annual international meeting is the premier event for anyone involved in all aspects of microwave theory and practice. The exhibition will be held June 4-6, 2013 at the Washington State Convention Center in Seattle, WA and will feature over 550 exhibitors, representing state-of-the-art equipment in all segments of the microwave community. Schleuniger will be at booth #1837 providing hands-on demonstrations of innovative solutions for processing coaxial cable.



Coaxial cable is used in a variety of products serving many different markets. It is used to carry higher frequency signals from point A to point B with minimal signal loss and degradation. Schleuniger offers a complete range of semi- and fully automatic machines for stripping coaxial, micro-coaxial, triaxial as well as semi-rigid cables. The patented rotary stripping and cutting concept in each of these machines ensures the precise and repeatable stripping quality Schleuniger is known for.



As part of the exhibition, Schleuniger will demonstrate the newly released CoaxStrip 5200, a semi-automatic, multi-step stripping machine for coaxial, multi-conductor cable and single conductor wire. Thanks to the universally designed blades, centralizers and clamping jaws, the machine can process a full range of cables without the need for mechanical adjustments, saving the user valuable time and increasing output when switching between applications.  As the newest member of Schleuniger's line of coaxial cable strippers, the CoaxStrip 5200 also offers user-friendly features such as easy access to the LED lit working area, color touch screen and an intuitive, menu-driven data input system that allows cable programs to be created, saved and recalled quickly, ensuring consistent, repeatable results each time.



Additional machines in Schleuniger's line of coaxial cable strippers include the CoaxStrip 5300, CoaxStrip 5300 RX, CoaxStrip 5400 and CoaxStrip 5500.



More information about these products can be found at www.schleuniger-na.com. Should you have any questions, please e-mail sales@schleuniger.com or call (603) 668-8117.



Schleuniger is one of the globally leading companies for wire processing solutions and is specialized in high precision stripping & crimping technology. Manufactured in Switzerland and Germany, Schleuniger machines and equipment are used in various industries and markets all over the world. The Schleuniger Group has sales & service companies in Germany, USA, Canada, Mexico, Slovakia, Japan and China and a world-wide sales & service network with long-term partners in more than 50 countries. The Schleuniger Group represents the division "Wire Processing" of the METALL ZUG GROUP. The holding company METALL ZUG AG is listed at the Swiss Stock Exchange (SIX Local Caps, Zurich, Switzerland).

More from Machinery & Machining Tools