Multi-Slot, 2 A, PXI BRIC Matrix has high-density design.
Press Release Summary: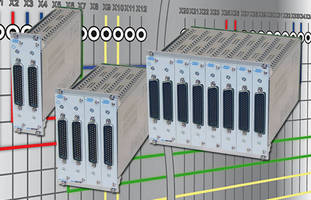 Occupying 2/4/8 slots of PXI chassis, Model 40-568 provides range of 1-pole matrix solutions from 75x4 to 600x4. It uses electromechanical relays to achieve 2 A switch rating and 60 W power capability to voltages up to 100 Vdc, 70 Vac. BRIC structure allows creation of large matrices in PXI over multiple slots, while integrated programming interface represents matrix as single entity to facilitate user programming and reduce user error. User connections are made via 78-way D-type connectors.
---
Original Press Release:

Pickering Interfaces Introduces New High Density PXI BRIC



Clacton on Sea, UK–Pickering Interfaces is expanding its range of 2A BRIC matrices with the introduction of the 40-568.



The 40-568 is a high density multi-slot BRIC occupying 2, 4 or 8 slots of a PXI chassis and provides a range of 1 pole matrix solutions from 75x4 to 600x4, substantially increasing the density of 2A matrices compared to competing solutions.



The product range uses high quality electro-mechanical relays to achieve their 2A switch rating and 60W power capability to voltages up to 100VDC, 70VAC.



Pickering Interfaces BRIC structure allows the creation of large matrices in PXI over multiple slots without the use of expensive external cables. The fully integrated programming interface represents the matrix as a single entity, easing user programming and reducing the likelihood of user errors.



User connections are through industry standard 78 way D type connectors that are fully supported by Pickering Interfaces range of interconnection products.



The BRIC switching range was first introduced in 2002 and now includes many multi-slot PXI solutions using reed, solid state and electro-mechanical relays to suit a wide variety of switching applications. There are now 100's of different configurations available.



Pricing and availability information is supplied on our web site www.pickeringtest.com



About Pickering Interfaces

Pickering Interfaces is a market innovator in signal switching and conditioning for a broad range of applications and architectures, with the largest range of switching cards in the industry for PXI, LXI, PCI, VXI and GPIB applications.  Pickering Interfaces has provided solutions to both commercial and military applications.  In addition, Pickering's range of instrumentation provides innovative test solutions to users and integrators of modular test systems.  Pickering Interfaces operate globally with direct operations in the US, UK, Germany, Sweden, France , Czech Republic, and Engineering support in China, together with additional representation in countries throughout the Americas, Europe and Asia.



Press Contact for Pickering Interfaces :_>Renate Fritz, email: renate.fritz@onlinehome.de

More from Controls & Controllers