Multi-Signal Calibrator features single-layer interface.
Press Release Summary: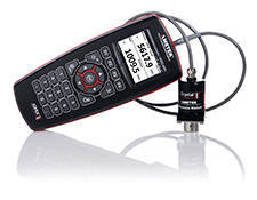 Featuring portable design, JOFRA ASC-400 provides laboratory accuracy for field calibration, process monitoring, and maintenance functions. Calibrator is capable of sourcing with simultaneous read-back from device-under-test of mA, V, pulsed transmitters, pressure, and temperature. Unit performs automatic switch test, leak test, scaling, and online % error calculation. With single-layer interface, technicians can use as many as 11 different functions without referring to documentation.
---
Original Press Release:

Multi-Signal Calibrator with Single-Layer Interface for Industry-Leading Ease of Use



New AMETEK/JOFRA® instrument provides laboratory accuracy for field calibration



A portable multi-signal calibrator that allows all functions to be controlled from the main screen for industry-leading ease of use has been introduced by AMETEK Test & Calibration Instruments (www.ametekcalibration.com).  The intuitive, single-layer interface of the new JOFRA ASC-400 allows technicians to use as many as 11 different functions without referring to documentation. It has a high contrast, full-color screen and full numeric keyboard.



Applications:

• Power generation

• Process Engineering

• Oil & Gas Production & Distribution

• Chemical Processing

• Pharmaceuticals

• Food Processing

• Precision Manufacturing

• Pulp & Paper

• Water Supply & Sewerage Treatment

• Metalworking

• Hydraulics

• Electrical



It provides laboratory accuracy for field calibration, process monitoring and maintenance functions. It is compact enough to fit into a tool box and operate with one hand.



The instrument meets the calibration demands of modern sensors and transmitters for numerous functions in process control, systems engineering and maintenance.



It is capable of sourcing with simultaneous read-back from device-under-test of mA, V, pulsed transmitters, pressure and temperature. The calibrator easily performs time saving functions such as automatic switch test, leak test, scaling and online % error calculation. It performs fast RTD simulation, works with pulsed transmitters and PLCs and can be used as a high-accuracy thermometer.



When paired with new CPF Series pressure modules from AMETEK Crystal Engineering, the ASC-400 be¬comes a true pressure calibrator. It achieves accuracies down to 0.025% of reading unaffected by temperature in the range from -10°C to 50°C.



The ASC-400 offers simultaneous input and output, which makes it possible to calibrate and adjust a transmitter with no need for additional equipment.



AMETEK Test & Calibration Instruments is a part of AMETEK, Inc., a leading global manufacturer of electronic instruments and electromechanical devices with annual sales of more than US$3.6 billion.



Product Sales Contacts:

Scott Crone

AMETEK Test & Calibration Instruments

+1-727-538-6007

E-mail: scott.crone@ametek.com

More from Machinery & Machining Tools