Multi-Purpose Towels help clean hand tools.
Press Release Summary: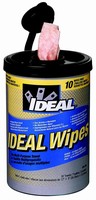 Packaged in re-closable, moisture-retaining dispenser, IDEAL-Wipes(TM) Multi-Purpose Towels are 82 disposable wipes that do not require water to activate their cleaning solution. They clean tools of deeply embedded dirt, grease, grime, or lube. Infused with Vitamin E and natural moisturizers, orange scented 12 x 9 in. wipes prevent skin from chapping, cracking, or drying. Wipes have non-scratching, textured side for scrubbing tools and hands, and smooth wiping side for delicate surfaces.
---
Original Press Release:

New IDEAL-Wipes(TM) Multi-Purpose Towels Tackle Toughest Contractor Clean-Up Jobs



SYCAMORE, IL, June 19, 2008 - To help professional contractors extend the service life of their valuable hand tools, IDEAL has introduced new IDEAL-Wipes(TM) multi-purpose towels. Packaged in a re-closable, moisture-retaining dispenser, these 82 extra-large (12" x 9") disposable wipes do not require water to activate their powerful cleaning solution, making them the perfect wipe for in the field or in the shop.

"Contractors maximize their tool investment by using IDEAL-Wipes," explained Bruce Hartranft, Business Unit Manager, IDEAL INDUSTRIES, INC. "Even it the contractor is not close to a sink or water, they'll be able to bring their tools back to 'new' condition in one step, while preventing rust, grime build-up and corrosion from destroying the tool's usefulness and value."

IDEAL-Wipes clean tools of deeply embedded dirt, grease, grime or lube, yet are safe to use on hands. Infused with Vitamin E and natural moisturizers, the wipes prevent skin from chapping, cracking or drying. Plus, the orange scented wipes will not leave an unpleasant solvent odor on the skin like other cleaning agents.

IDEAL-Wipes have two unique sides - a non-scratching, textured side for scrubbing tools and hands, and a smooth wiping side for delicate surfaces. Heavy-duty fabric assures no tearing or shredding.

TOOL-SAVING TIPS

In addition to using IDEAL-Wipes, Hartranft suggests the following techniques to increase hand tool service life:

o A drop of oil at a tool's hinge will extend its life and assure easier operation. Do not allow oil to get onto the handles as it causes a slipping hazard.

o Store tools in a dry, secure location where they won't be tampered with or exposed to the elements. If you are storing them in a damp basement, install a dehumidifier.

o Place tools in individual pockets in a tool tote rather than together where they can be nicked, scratched or broken.

o If possible, hang tools with cutting edges to keep them from getting dulled by contact with other tools.

o Never use pliers, screwdrivers or other tools as a substitute for a hammer.

ABOUT IDEAL INDUSTRIES, INC.

IDEAL INDUSTRIES, INC. has been serving the electrical industry since 1916. IDEAL is one of the world's leading manufacturers of professional quality tools and supplies serving installation professionals in the construction, maintenance, data communications and original equipment manufacturing industries.

For more information, contact
IDEAL INDUSTRIES, INC.
Becker Place, Sycamore, Illinois 60178
Or
phone 1-800-435-0705
Fax: 1-800-533-4483.
On the web, www.idealindustries.com.

Bruce Hartranft
IDEAL INDUSTRIES, INC.
800-435-0705
bruce.hartranft@idealindustries.com

More from Computer Hardware & Peripherals