Multi-Purpose Tester performs 5 different tests.
Press Release Summary: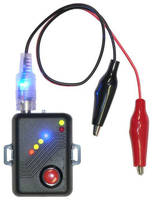 Featuring DC jack input for directly plugging into DC power sources, ST-BT01Q 12 Vdc tester performs voltage, load, polarity, voltage drop, and PTC fuse tests. It features overheat protection, 6 LEDs and illuminated power connector to clearly show results of each test, and uneven-length alligator clip test leads to prevent them from touching while tests are being performed. Testing voltage on-site without multimeter, unit can check voltages under 1 A or 500 mA loads.
---
Original Press Release:

Seco-Larm Introduces the New ENFORCER 5-in-1 Multi-Purpose 12 Vdc Tester



IRVINE, CALIF., March 18, 2009 - SECO-LARM is now shipping the New ENFORCER 5-in-1 Multi-Purpose 12VDC Tester (ST-BT01Q). The ST-BT01Q quickly and easily performs the following 5 tests in the field: voltage, load, polarity, voltage drop, and PTC fuse. There are 6 LEDs and the patented SECO-LARM Illuminated Power Connector to clearly show the results of each test.

The ST-BT01Q tests voltage on-site without a multimeter. A simulated load can then be applied to power sources to check voltages under 1A or 500mA loads. Using the illuminated power connector, the polarity of wiring can be checked quickly by showing correct polarity (blue), and incorrect polarity (red). Voltage drop can be tested by checking the voltage first at the power source, then at the end of a cable run. PTC fuses can be accurately checked by applying a load to them, something a multimeter cannot do.

Other features include a DC jack input for plugging DC power sources directly into the tester, an overheat function to protect the tester from damage, and uneven-length alligator clip test leads to prevent them from touching while tests are being performed.

For more information about this product or any of SECO-LARM's full line of residential and commercial security systems and accessories, or to request our latest catalog, please contact the SECO-LARM Sales Department (949) 261-2999 (California) or (800) 662-0800, fax (949) 261-7326, sales@seco-larm.com or visit us on the Web at www.seco-larm.com.

SECO-LARM© USA INC.
16842 Millikan Avenue
Irvine, CA 92606
Phone: 949-261-2999
Fax: 949-261-7326
Email: sales@seco-larm.com
Website: www.seco-larm.com

SECO-LARM SALES DEPARTMENT
(800) 662-0800
(949) 261-2999
Fax: (949) 261-7326
e-mail: info@seco-larm.com
website: www.seco-larm.com

Related