Multi-Protocol Data Bus Interface supports Mil 1553/1760 standards.
Press Release Summary: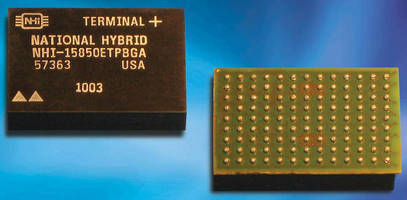 Measuring 1.05 x 0.75 x 0.185 in., Terminal+ can function as simultaneous monitor/remote terminal, programmable bus controller, remote terminal, or bus monitor. It has integrated transformers and ensures integrity of all data and control structures. Serving as interface between dual redundant bus and host processor, solution only requires 20 MHz clock as external component and supports MIL-STD-1553/-1760 functionality. Complete error checking is implemented in all operational modes.
---
Original Press Release:

National Hybrid Terminal+ Compact Multi-protocol Data Bus Interface Supports Simultaneous 1553/1760 Functionality



New York, NY - API Technologies Corp. (ATNY.OB) ("API"), a prime contractor in sophisticated electronics, highly engineered systems, secure communications and electronic components and subsystems to the global defense and aerospace industries, today announced the release of Terminal+ (pronounced Terminal Plus), the newest National Hybrid 1553 data bus product. The compact National Hybrid Terminal+ offers a multi-protocol data bus interface with integrated transformers and can function as a simultaneous monitor/remote terminal, a programmable bus controller, a remote terminal or a bus monitor.

Designed for both reliability and durability, the Terminal+ ensures the integrity of all data and control structures. The Terminal+ with integrated transformers occupies minimal board space and simplifies PCB layout as well as electrical design.

The cost-effective component, which serves as an interface between a dual redundant bus and a host processor, supports both MIL-STD-1553 and MIL-STD-1760 functionality in a single, low-power component. This makes the Terminal+ ideal for space-constrained, high-reliability rugged applications that require demanding processing power as found in military and commercial avionics.

The subsystem interface can be a local bus or a PCI bus. The local bus interface appears to the host processor as 64K words of 16-bit wide, dual port memory controlled by standard RAM signals. The PCI interface is a 32-bit 33 MHz target. The Terminal+ easily interfaces with all popular processors and buses, since no external logic is required.

The Terminal+ features a protocol ASIC, which controls the multi-protocol functions, two +5 V or +3.3 V monolithic transceivers and a 64k x 16 shared RAM. All logic I/O is 3.3 V that is 5 V tolerant. The only external component required is a 20 MHz clock. The open memory architecture increases design flexibility and reduces software development time and effort.

The built-in interrupt controller uses an internal FIFO that stores message header information. Six pending interrupts and an overflow interrupt can be pushed on to the FIFO, which can be configured to revolve or stop when full.

The Terminal+ implements complete error checking in all operational modes: bus controller, remote terminal, bus monitor and bus monitor/remote terminal. Multiple autonomous data tables ensure data integrity.

The Terminal+ measures 1.05" x 0.75" x 0.185" and is available in a ball grid array with 117 large pitch, oversized balls to eliminate solder shorting risks. Operating temperature is the full military range of -55°C to +125°C (-67°F to 257°F) and storage temperature is -65°C to +150°C (-85°F to +302°F).

For more information, please visit www.nationalhybrid.com, call 631.981.2400 or e-mail sales@nationalhybrid.com.

About National Hybrid Products
As a trusted brand of critical components to the defense and aerospace industries since 1974, National Hybrid products offer unparalleled reliability in a very small package. Offerings include 1553 data bus products (including the recently released National Hybrid Bus+), solid-state power controllers, high-density multi-chip modules and custom, state-of-the-art hybrid micro-electric circuits.

About API Technologies Corp.
The Company is a prime contractor in sophisticated electronics, highly engineered systems, secure communications and electronic components and subsystems to the global defense and aerospace industry. API Technologies' customers include the governments of the U.S., Canada, the United Kingdom, NATO and the European Union, as well as many of the leading Fortune 500 companies. The Company is engaged in providing innovative design, engineering and manufacturing solutions to its customers. API Technologies trades on the OTC Bulletin Board under the symbol ATNY. For further information, please visit the company website at www.apitech.com