Multi-Process Welder offers MIG, Stick, and Lift TIG outputs.
Press Release Summary: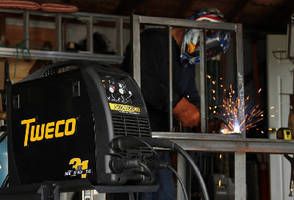 Running off 115 V power, Tweco® Fabricator® 141i offers 10–140 A of power for MIG and Lift TIG welding and 90 A for Stick welding. System incorporates built-in gas solenoid valve and wire feed system for MIG welding, as well as pushbutton controls, LED displays, and Quick Start Guide. Weighing just 32.2 lb, portable welder accepts 4 or 8 in. spools of wire and is suited for light duty welding projects in motorsports, auto repair, farm/ranch, metal art, and maintenance applications.
---
Original Press Release:

Tweco® Fabricator® 141i 3-in-1 Welder Provides Best Value For Home Hobby, DIY for Light Duty Welding Projects



• First welder that provides MIG, Stick and Lift TIG outputs using common 115V household power.

• Portable, affordable and easy-to-use.

• First welding system to carry the Tweco brand name.



ST. LOUIS — Today Victor Technologies"· launched the Tweco® Fabricator® 141i 3-in-1 welder, a multi-process welder that runs off 115V household power. Built to meet professional standards, the MIG, Stick and TIG performance of the Tweco Fabricator 141i is perfect for DIY and home hobby use, as well as other light duty welding projects in motorsports, auto repair, farm/ranch, metal art and maintenance applications. It offers 10 to 140 amps of power for MIG & Lift TIG welding and 90 amps for Stick welding.



Simple Operation, Advanced Performance

Push button controls, LED displays and a Quick Start Guide enables first time welders to set up the unit and start welding in a very short time. An easy to use set-up chart inside the side panel guides users with helpful diagrams and welding parameter recommendations. 



The Tweco Fabricator 141i uses advanced technology that provides many exceptional benefits compared to older conventional MIG-only welders:

• Multi-process welding output, allowing users to select among MIG, Stick, or TIG, based on the best process for a particular project or application.

• Easy-to-use features and excellent arc performance helps beginners learn to weld like a pro.

• Highly portable unit goes anywhere; it weighs just 32.2 lbs.

• Higher duty cycle, allows users to weld longer on thicker material.



The Tweco Fabricator 141i is a fully integrated system; it incorporates a built-in gas solenoid valve and wire feed system for MIG welding, and accepts 4" or 8" spools of wire. With a list price of $699 for the complete system solution and $849 for a complete system solution with a cart, the Tweco Fabricator 141i is priced about the same as MIG-only welders.



Tweco Branded Welders

The Tweco Fabricator 141i is the first welding power source from Victor Technologies to carry the Tweco brand name with the black and yellow Tweco colors.



"The move reflects the company's commitment as an innovative provider of specialty welding system solutions and the strong industrial heritage of the Tweco brand," says David Wilton, Vice President, Global Welding Products, Victor Technologies.



About Tweco

Founded in 1936, Tweco has manufactured more than two million MIG guns and is the industry leader in the production of MIG guns, cables, manual arc welding electrode holders and accessories. Additionally, Tweco provides specialty welding power sources and a comprehensive range of leading arc welding accessories, including electrode holders, ground clamps, lugs, cable connectors, switchable magnetic products and safety product line.



About Victor Technologies

Headquartered in St. Louis, Missouri, Victor Technologies provides superior solutions for cutting, welding and gas control equipment under brand names that include Victor®, Victor®Thermal Dynamics®, Victor®Arcair®, Victor®TurboTorch®, Tweco®, Thermal Arc®, Stoody®, Firepower® and Cigweld®. For more information about Victor Technologies, its products and services, visit the company's web site at www.victortechnologies.com.



Contact:

Bill Wehrman, Communications Manager

Victor Technologies

Phone: 636-728-3057   

Email: media@victortechnologies.com

Related