Multi-Process Welder offers gasoline engine.
Press Release Summary: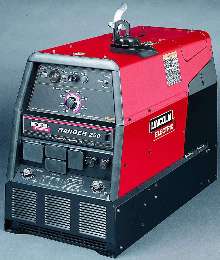 With fully enclosed case, Ranger® 250 is available with Robin/Subaru 20.5 hp OHV gasoline engine that operates at noise levels to 101.9 dBA at full load. Product provides 250 Adc and 275 A CV output at 100% and 60% duty cycle, respectively. Multi-process dc welder features 4 welding modes, delivers 9,000 W peak and 8,500 W continuous ac auxiliary generator power, and incorporates Chopper Technology(TM) for control of dc welding output.
---
Original Press Release:

Robin/Subaru® Engine now Available on Lincoln Electric's Ranger® 250


· Reliable, efficient OHV Robin/Subaru gasoline engine delivers 20.5 HP.

· Lincoln Chopper Technology(TM) delivers easy arc starting, smooth arc action, low spatter levels and excellent bead appearance.

· Unit offers 250-amp or more DC output for stick, Downhill Pipe, TIG, MIG, Flux-cored arc welding and arc gouging.

Cleveland, Ohio - The popular Ranger® 250 from The Lincoln Electric Company is now available with a Robin/Subaru brand gasoline engine. The unit provides a 250-amp DC output at 100 percent duty cycle for stick and TIG welding and a 275-amp CV output at a 60 percent duty cycle for MIG and flux-cored Innershield® welding. In addition, the Ranger 250 delivers 9,000 watts peak and 8,500 watt continuous AC auxiliary generator power for tools, lights and plasma cutters.

Like all Rangers, it is designed for contractors, maintenance and repair, owner-operators, and welding professionals.

Welding/Power Capabilities

The hallmark of this machine is Lincoln's Chopper Technology(TM), which controls the DC welding output to create easy starts, a smooth arc, low spatter and excellent bead appearance.

This DC multi-process gasoline engine driven welder unit features four welding modes: Stick - for general purpose welding, Downhill Pipe mode for stick welding on pipe, Touch Start TIG(TM), and CV-Wire mode for cored-wire and MIG welding. The Ranger 250 will also arc gouge with carbons up to 3/16" in diameter.

Engine

With a fully enclosed case, the 20.5 HP OHV gasoline engine is low in noise with 101.9 dBA sound power at full load. In addition, the Ranger 250 requires infrequent maintenance with oil changes required every 100 hours and oil filter changes every 200 hours. The engine carries a three-year warranty from the manufacturer. If needed, the Robin / Subaru service network includes over 3,700 locations in North America for any parts and service needs.

Manufactured under a quality system certified to ISO 9001 requirements, the Ranger carries Lincoln's three-year warranty (all engines carry a separate warranty by the manufacturer.) All units have the approval of the Canadian Standards Association.

The Lincoln Electric Company, Cleveland, Ohio, is a world leader in the design and manufacture of arc welding equipment and consumables, robotic welding systems, plasma and oxyfuel cutting equipment.

This product is available at a welding supply store near you. Or, call 1-888-355-3213 or visit www.lincolnelectric.com to obtain Bulletin E6.103 to learn more about the Ranger 250 with Robin/Subaru engine.

More from HVAC