Multi-Pocket Unsealed Headers offer design flexibility.
Press Release Summary: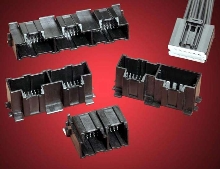 Suited for automotive and commercial control module manufacturers, MX64 2- and 3-pocket unsealed headers meet USCAR-approved footprints and testing requirements for .025 in. square blade systems. Products, available in vertical and right angle configurations, offer 3 polarization options for individual pockets to prevent mismating. They also offer 3 hybrid pocket options that utilize .059 or .110 in. blades, allowing power up to 25 A and signal blades to be in same header.
---
Original Press Release:

Molex's MX64 Multi-Pocket Unsealed Headers Deliver Design Flexibility


LISLE, Ill. - August 31, 2004 - The new MX64 Multi-Pocket Unsealed Headers from Molex Incorporated (NASDAQ: MOLX and MOLXA) offer increased design flexibility to automotive and commercial control module manufacturers. The first to-market products are both two- and three-pocket unsealed headers. These headers meet USCAR approved footprints and testing requirements for 0.64mm (.025") square blade systems, ensuring they are in compliance with OEM (original equipment manufacturer) directives. Currently, the MX64 Multi-Pocket Unsealed Headers are approved for use by major U.S. automotive original equipment manufacturers (OEMs).

Available in vertical and right angle configurations, the MX64 Multi-Pocket Unsealed Headers enable easy PCB configuration. They offer three polarization options for individual pockets to prevent mismating. These individual pockets provide flexibility in circuit count with their interchangeability to match any of the USCAR circuit sizes (8, 10, 12, 14, 16, 18 and 20) for 0.64mm (.025") square signal blade terminals.

The MX64 Multi-Pocket Unsealed Headers also offer three hybrid pocket options for higher current rating requirements. These hybrid options utilize 1.50mm (.059") or 2.80mm (.110") blades, allowing for power (up to 25 Amperes) and signal blades to be in the same header.

"Automotive and commercial control module manufacturers are looking for a product that provides them both tooling and assembly flexibility," said Scott Reynolds, product manager, Automotive Division, Molex Incorporated. "By developing the MX64 Multi-Pocket Headers, Molex delivers the first product to market that addresses these challenges, while still offering a low-cost solution."

The MX64 Multi-Pocket Headers also feature:

High temperature resin housings that allow for multiple soldering processes;

Environmentally-friendly, lead-free, post-plated terminals that don't have bare edges;

External flanges that provide added strain relief for the PC solder joints; and

PC board locks that eliminate the need of screws to hold the header to the PCB during soldering.

The new MX64 Multi-Pocket Headers offer flexibility and an affordable cost. Medium-to-low volume programs are available for OEM pricing. Lead-time is between six and eight weeks. For more information on the MX64 Multi-Pocket Headers, visit www.molex.com/ind/auto/mx64.html.

Molex Incorporated is a 66-year-old global manufacturer of electronic, electrical and fiber optic interconnection systems. Based in Lisle, Illinois, USA, the company operates 55 manufacturing facilities in 19 countries. The Molex website is www.molex.com.

SM USCAR is a service mark United States Council for Automotive Research General Motors Corporation, Ford Motor Company, and DaimlerChrysler Corporation, all Delaware corporations

More from Packaging Products & Equipment