Multi-Panel and Multi-Slide Patio Doors are suitable for builders and remodelers.
Press Release Summary: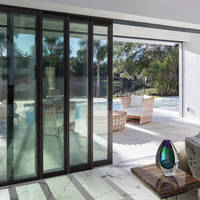 Multi-Panel and Multi-Slide Patio Doors are available in Ply Gem MaxView, EuroSeries, and 4880 Series versions. Ply Gem Euro model comes with 8-ft by 9-ft door panel and can be operated with a finger touch. MaxView features aluminum three-panel and can cover 20-ft in width and 10-ft in height. 4880 patio door is suitable for high-end residential and light commercial projects applications and is available in two, three and four-panel sliding and pocket configurations.
---
Original Press Release:
Ply Gem Building Products Introduces its Broadest Selections of Multi-Panel, Multi-Slide Patio Doors
New line boasts larger glass coverage for spectacular views and dramatic design features that go above and beyond standard patio door options
Ply Gem® (NYSE: PGEM), a leading manufacturer of building products, is introducing its broadest selection of multi-panel and multi-slide patio doors to achieve dramatic openings that seamlessly transition between the indoors and outdoors. On display for the first time at the 2018 International Builders' Show in booth W2501, new Ply Gem MaxView, EuroSeries, and 4880 Series doors push the boundaries of affordable luxury and advanced fenestration performance with bigger, stronger and more flexible glass walls. Backed by an industry leading warranty, these expansive opening solutions give architects, builders and remodelers a major competitive edge.
According to the 2017 U.S. Houzz Landscape Trends Study, 85 percent of homeowners who completed an outdoor renovation project opted for a major home remodel or a complete overhaul, meaning basic patio doors will no longer make the cut. As a leading North American window and door manufacturer, Ply Gem is expanding its patio door offering with extravagant new solutions that meet the critical design, function, and performance features customers value most at an unexpected price.
"With multiple configurations and material choices, our assortment addresses challenges with the most sought-after solutions for builders, architects, remodelers and homeowners on budgets within reach," said Mark Montgomery, vice president, marketing, Ply Gem Windows. "Ply Gem is applying its 75 years of manufacturing and R&D experience to lead the market with these bold new designs and energy efficient solutions. I am confident our customers will be wowed by this new generation of Ply Gem patio doors for their incredible size and beauty, exceptional operational capabilities, and ease of installation."
Ply Gem EuroSeries Patio Door
The new vinyl EuroSeries Patio Door is named for Ply Gem's profound dedication to best-in-class engineering, enhanced performance, and contemporary design. This glamorous multi-slide patio door is designed with a robust 8-foot by 9-foot door panel for luxurious panoramic views. Even with its vast strength and size, with just the touch of a finger, the door seamlessly opens between indoors and outdoors thanks to a lift and slide gliding system.
The Ply Gem EuroSeries is one of the strongest patio doors on the market, meeting impact protection requirements set forth by the Florida Building Code - including Miami - Dade County - giving homeowners peace of mind knowing their home is always protected against Mother Nature. The door's large construction depth and engineered design also promotes superior thermal performance and weather protection with an outstanding heat transfer coefficient (average U-value of 1.3) and three sealing levels. Glass packages with sound transmission class (STC) ratings help reduce outdoor noise levels for added interior comfort.
For the ultimate in design flexibility, the vinyl door frame with color retention technology can be customized with low maintenance two-tone indoor and outdoor colors - that will not fade over time - available in white or woodgrain interior colors combined with white, grey or bronze exterior colors.
Ply Gem MaxView Patio Door
Commanding attention for picturesque panoramic views and blurring the lines between interior and outdoor living spaces, the Ply Gem MaxView patio door - available with an upgraded automated opening feature - delivers modern sophistication in high-end new construction and remodeling applications.
The large aluminum three-panel, multi-slide door system covers an impressive 20-feet in width and 10-feet in height. A sophisticated minimalist frame design maximizes the glass viewing area, with vertical stiles of just 19mm (3/4") wide. With MaxView, homeowners and builders do not have to compromise glass aesthetics for performance, as the patio door delivers exceptional energy efficiency through high-performance glazing packages and thermally insulated aluminum construction on the frame and panels.
Available in virtually unlimited design color options - featuring an electrostatically coated or designer anodized finish - the Ply Gem MaxView door is the perfect complement to 46 exterior window color options available on Ply Gem's MIRA Woodclad Collection.
Ply Gem 4880 Series Patio Door
Already favorably regarded by builders, the Ply Gem 4880 Patio Door is synonymous with superior thermal and impact performance, plus an efficient automated opening feature. Ideal for high-end residential and light commercial projects, this stunningly practical door is available in two-, three- and four-panel sliding and pocket configurations, with thermally insulated construction and high-performance glazing packages. The sliding, multi-panel openings up to 8-feet high by 16-feet wide enhance the transitional living experience, while the pocket style allows the door to fully recess into the wall for complete unrestricted access between the indoors and outdoors.
Available with a high performance solar cooling glass package, the 4880 patio door meets new Florida Energy Conservation codes and helps meet requirements of whole-home efficiency programs such as California's Title 24. The door is also ASTM impact-rated and meets most windborne debris protection codes for resistance against severe weather and high winds, especially in coastal regions of the United States.
Both the Ply Gem MaxView and 4880 patio doors can be upgraded with an automated operating system, which allows users to control it from anywhere, anytime for added convenience - either by an included remote control or with the DreamView app for iOS devices and smart phones. Connected to its own 900 MHz wireless network, the operating system syncs with a homeowner or building tenant's Wi-Fi connection, and links to existing wired home automation systems for complete integration.
The new Ply Gem patio doors will be available in 2018 through select distribution locations. For more information on Ply Gem products and services, visit www.plygem.com.
About Ply Gem Building Products
Ply Gem (NYSE: PGEM), headquartered in Cary, N.C., is a leading manufacturer of exterior building products in North America. Ply Gem produces a comprehensive product line of windows and patio doors; vinyl, aluminum and steel siding and accessories; engineered slate and cedar roofing products; designer accents; cellular PVC trim and mouldings; vinyl fencing and railing; stone veneer and gutterware; all used in both new construction and home repair and remodeling in the United States and Canada. Visit www.plygem.com for more information.
More from Adhesives & Sealants