Multi-Mode Fiber System unifies multiple fire alarms.
Press Release Summary: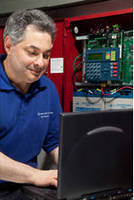 Designed to join up to 16 remote fire alarm control panels together to report all systems' signals to central monitoring station, Lite-Connect allows more details to be reported on systems' events, as opposed to traditional method of running copper signaling line circuits between buildings. Multi-mode fiber optic cable protects control panels from common ground faults and electrical surges caused by lightning. Information reported contains actual point or zone information for all event types.
---
Original Press Release:

Fire-Lite Alarms Boosts Protection and Lightens-Up Monitoring Costs



Lite-Connect Unifies Multiple Fire Alarm Systems over Fiber Optic Cable to Reduce Monitoring Costs While Improving Reporting Details and Safeguarding Against Electrical Damage



Northford, Conn.,  – Fire-Lite Alarms by Honeywell (NYSE: HON) today released the Lite-Connect multi-mode fiber solution, designed to join as many as 16 remote fire alarm control panels together to report all systems' signals to a central monitoring station as one. This centralized reporting method eliminates significant telecommunications costs to communicate signals from each individual panel.



Lite-Connect allows more details to be reported on all systems' events, as opposed to the traditional method of running copper signaling line circuits between buildings. The use of multi-mode fiber optic cable to connect panels offers robust protection from common ground faults, and other electrical surges, many times caused by lightning strikes.



"Lite-Connect offers dealers a big competitive advantage when you're looking at a job involving two or more panels," said David Pakech, vice president of sales for Fire-Lite Alarms. "This blows away the stigma that Fire-Lite is only good for small to medium sized applications. Dealers can now offer a dependable, non-proprietary system with the same level of protection and cost efficiencies to larger facilities and campuses."



School, apartment and retail complexes are ideal Lite-Connect applications. Any combination of up to 16 MS-9050UD and MS-9200UDLS remote fire alarm control panels from Fire-Lite Alarms can be connected via fiber and report out all signals through an MS-9050UD as the "main" panel.



Unlike traditional copper wire connectors, Lite-Connect utilizes multi-mode fiber optic cable to protect all control panels from common ground faults, and electrical surges caused by lightning. Moreover, the information reported contains actual point or zone information for all event types, offering first responders and service providers a better understanding of the issue and where it is located.



The applications and technical aspects of utilizing this new fiber solution with Fire-Lite Alarms control panels is summarized in the Webinar Lite-Connect – A New Fiber Solution, available for immediate viewing on-demand. A video introduction to Lite-Connect is also available on the Fire-Lite Alarms YouTube Channel. More technical information on Lite-Connect and compatible fire alarm control panels can be found on www.firelite.com.



MEDIA CONTACT

Beth Welch

203-484-6202

beth.welch@honeywell.com



About FIRE-LITE ALARMS

Fire-Lite Alarms, part of the Honeywell (NYSE: HON) Fire Systems Group, is a leading manufacturer of non-proprietary, unrestricted fire alarm and emergency communications systems for commercial applications worldwide. To simplify system installation, commissioning and maintenance, Fire-Lite Alarms incorporates a unique variety of common features across all product lines, backed by training, technical support and a suite of sales and system design software tools – all free-of-charge.



About Honeywell

Honeywell (www.honeywell.com) is a Fortune 100 diversified technology and manufacturing leader, serving customers worldwide with aerospace products and services; control technologies for buildings, homes and industry; turbochargers; and performance materials. Based in Morris Township, N.J., Honeywell's shares are traded on the New York, London, and Chicago Stock Exchanges. For more news and information on Honeywell, please visit www.honeywellnow.com

More from Fluid & Gas Flow Equipment