Tube / Pipe / Hose Cutters and Cutting Machinery
Multi-Material Cutter offers max cutting force of 600 lb.
Press Release Summary: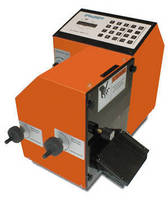 Able to produce round or flat material up to 3.94 in. wide and 5/8 in. thick, Model MMC200 can cut copper wire/cable, silver solder, power cords, cellophane, fiberglass sleeving, latex, fabrics, belting, flat/ribbon cable, strapping, hosing, and tubing. Microprocessor-controlled unit can be programmed to cut any length with 1% or better tolerance reliant on material construction. Programmable for up to 99 batches and 10 fixed feed rates, MMC200 is rated to cut up to 7,592 two inch pieces/hr.
---
Original Press Release:

The Eraser Company, Inc. Announces The Ultimate Workhorse in Material Cutting; Eraser's Model MMC200 Multi-Material Cutter



Eraser's Model MMC200 Multi-Material Cutter offers users the widest range of industrial cutting applications available today. The unit can process round or flat material up to 3.94 inches wide and 5/8 inches thick. Boasting a maximum cutting force of 600 pounds, the MMC200 can cut a virtually limitless range of materials, including copper wire and cable, silver solder, power cords, cellophane, fiberglass sleeving, latex, fabrics, belting, flat and ribbon cable, strapping, hosing and tubing. For many materials, the unit is capable of cutting multiple pieces of the same material in one cut, increasing operator efficiency by allowing higher production runs in less time than other cutters. This microprocessor-controlled cutter can be easily programmed to cut any length (in inches or millimeters), with a 1% or better tolerance reliant on material construction. Programmable for up to 99 batches and 10 fixed feed rates, the MMC200 is rated to cut up to 7,592, 2-inch pieces per hour.



See the MMC200 in action:   YouTube!

Visit  Eraser to see the MMC200 operating manual and other cutting machines.



About The Eraser Company, Inc.

The Eraser Company, Inc., celebrating over 100 years in business, manufactures a wide range of machinery that enables customers to manufacture, prepare, and process, wire, cable, and tubing products more efficiently, effectively, and profitably. The company is ISO 9001 Certified, and their products can be found worldwide.For more information on Eraser's entire product line visit www.eraser.com or call 315-454-3237.



The Eraser Company, Inc.

Contact: Alina Osbahr

Marketing Coordinator

Phone: Toll Free: (800)724-0594

or 315-454-3237

Fax: 315-454-3090

Email: aosbahr@eraser.com

More from Explosives, Armaments, and Weaponry